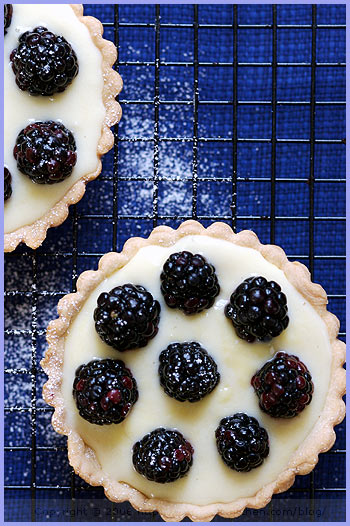 I am physically back in Boston (from Peru indeed, very good guess!) and still need time to be really entirely present so that I can get back into cooking, visiting your blogs and writing the stories about my trip. No need to say that I cannot wait as I have so many pictures I want to share! Be ready! While mon atterrissage (my landing) slowly happens — tout arrive à qui sait attendre, non ? (all comes to the one who knows to wait, right?) — why not talk about a dessert prepared a few weeks ago. I am glad that I actually had the smart idea to write down the recipe before taking off otherwise for sure, I would have forgotten in view of how tired P. and I both felt after a long ride home — and I will spare you with the details of our misadventure back. Even my English seems to have suffered — as P. sometimes points out — since for two entire weeks, I have had my head squeezed between Spanish, French and English. A mess, I tell you!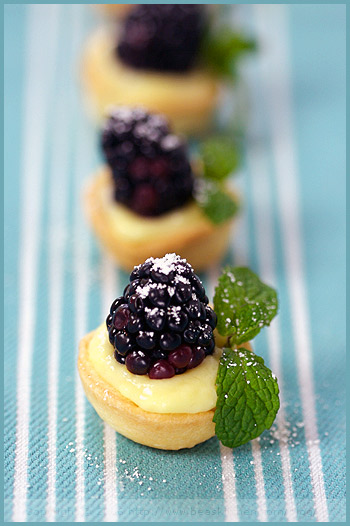 A line of deliciousness, I promise.
They look like little soldiers well-aligned and ready to march on! I reckon I must have just a tiny bit too much imagination. The never-ending dance of tarts continues with me, you will have to excuse me, but I just cannot help it. I always have ideas for tarts. This time however, my theme is le bleu for a change, B like blackberry and B like blue.
Do you remember picking blackberries? Oh you people living in Washington State, how lucky you are indeed! While I visited Seattle in early September, I managed to see wild blackberries everywhere, even where they are not usually to be expected, in odd places in the city where any patch of green grass can be found. This reminded me of home. This reminded P. of Ireland.
I have fond memories of picking these delicious wild fruit and simply cannot decide what I like best: picking them so that I can gulp them down quickly, making a mess while staining my hands and face, or walk around with a little bucket which I eventually fill up if I am good, imagining the many possible ways to prepare them.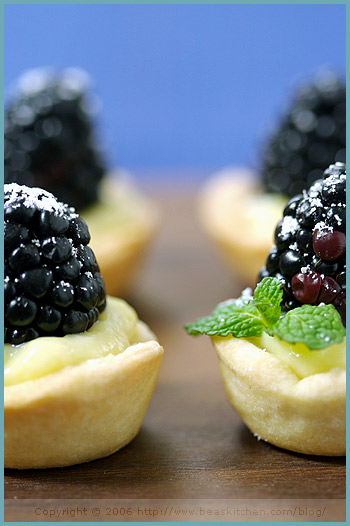 You will have guessed that I did not pick those blackberries. I have always been fond des mûres. I like to compare these delicious round fruit to miniature juicy pockets which burst open in your mouth when squeezed between the teeth, like an air-balloon bursting. Impossible de résister !
I often have leftovers of pâte brisée (unsweetened pie crust) that finds a home in simple desserts like these blackberry lemony tarts. It could be argued that the taste of such dessert would be enhanced if instead of using an unsweetened pie crust, I used a sweet pâte. To be honest, I have always liked pâte brisée in sweet tarts because I believe that it allows for less sweet desserts, perhaps more rustic in my eyes.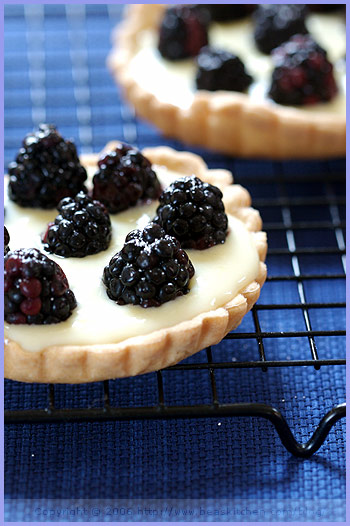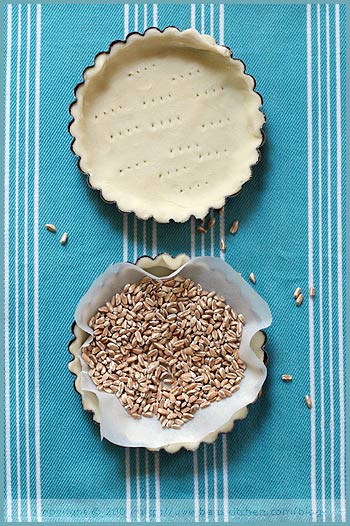 Because I am known to never resist lemon in a dessert, I decided to play with the idea of making a lemon cream instead of perhaps a more classical crème pâtissière (custard) or a chantilly (whipped cream). I made a batch of cream for about four tartlets and since I had a tiny more available, I also made a few finger-food mignardises, so easy to eat and satisfying on top — instead of eating the cream by the spoon, which I ended up doing anyway.
Of course, you can use different types of fruit as a topping. It depends on the fruit season and your mood. Colors go by the season. La nature fait bien les choses (Nature has its own way). I was in a blue mood, precisely a blackberry mood. Whatever the choice made, you might just do like P. and I did: not leave a single small crumb. On s'est régalé ! (we had a feast!)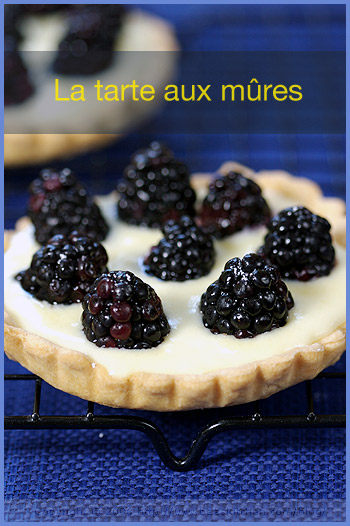 Blackberry Tartlets with Lemon Cream
(For 4 tartlets)
For the lemon cream
4 egg yolks
3 oz fine sugar
1 gelatin sheet
1 + 1/4 cup whole milk
Zest of 2 lemons
1/3 cup lemon juice
Steps:
Grate the lemon zest very finely.
Mix it with the milk and heat the two until the milk comes to almost a boiling point. Stop immediately.
In a bowl (use a stand mixer if you have one), beat together the sugar with the egg yolks. Add the lemon juice and without stopping to stir, pour slowly the hot milk.
Place the cream in a bowl over a pot of simmering water and as you keep stirring, let it become thicker. It cook take up to 10 mns until you reach the ideal consistency (it will thicken with the gelatin too).
Soak the gelatin sheet in cold water for a few mns and squeeze out the excess water. Add it the the hot cream and mix until it is dissolved.
Transfer the lemon cream in a bowl placed in a container full of iced water (add ice cubes to make the water bath cooler). Mix from time to time and cover with a plastic wrap. Place in the fridge for a few hours before using.
For the Tartlets (mold size 4.5 ")
Unsweetened pie crust
Fresh blackberries
Lemon cream
Steps:
Roll your dough thinly and place it in small tart molds. Make little holes with a fork and place the molds in the fridge for 30 mns.
Preheat your oven at 350F and cover the dough with parchment paper or foil paper on which you put dry rice or a weigh. Cook your tart shells for 15 to 20 mns. Remove the paper and continue to cook for 2 mns. Remove the tart shells from the oven and let them cool down on a cooling rack.
Garnish the shells with lemon cream and fresh blackberries. Sprinkle with confectioner's sugar and decorate with mint. If you have leftovers, make smaller tarts, for finger food.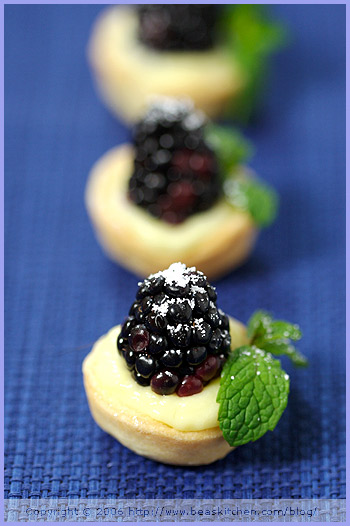 Le coin français
Tartelettes aux mûres et crème au citron
(Pour 4 tartelettes)
Pour la crème au citron
4 jaunes d'oeuf
80 g de sucre
1 feuille de gélatine
300 ml de lait entier
Zeste de 2 citrons
80 ml de jus de citron
Étapes :
Rapez très finement le zeste de citron.
Mélangez-le au lait et faites chauffer jusqu'au premier frémissement. Arrêtez tout de suite.
Dans un bol, mélangez le sucre avec les jaunes d'oeuf (utilisez un mixeur électrique si vous en avez un). Ajoutez le jus de citron et sans cesser de remuer, versez doucement le lait chaud.
Sans cesser de remuer, faites épaissir la crème au bain-marie (cela peut prendre 10 mns avant d'obtenir la consistance désirée.)
Faites tremper la gélatine dans de l'eau froide pendant quelques minutes et essorez-la bien. Ajoutez-la à la crème chaude et remuez pour qu'elle se dissolve.
Transférez la crème dans un bol placé dans un plat contenant de l'eau glacée (ajoutez des glaçons si nécessaire). Remuez de temps à autre. Couvrez d'un film alimentaire et laissez refroidir au frigidaire pendant quelques heures avant utilisation.
Pour les tartelettes (moules 11 cm de taille)
Pâte brisée
Mûres fraîches
Crème au citron
Étapes :
Étalez votre pâte et garnissez-en des petits moules ronds. Piquez la pâte avec une fourchette et mettez les moules au frigidaire pendant 30 mns.
Préchauffez votre four à 180 C et faites cuire les fonds de tarte à blanc pendant 15 à 20 mns (avec un poids tel des grains de riz sec posés sur une feuille de papier aluminium). Retirez le papier et poursuivez la cuisson pendant 2 mns. Sortez les fonds de tarte du four et laissez-les refroidir sur une grille.
Garnissez vos fonds de tarte avec la crème au citron et les mûres fraîches. Saupoudrez de sucre glace et décorez avec une feuille de menthe. Faites des mignardises si vous avez encore de la pâte et de la crème.