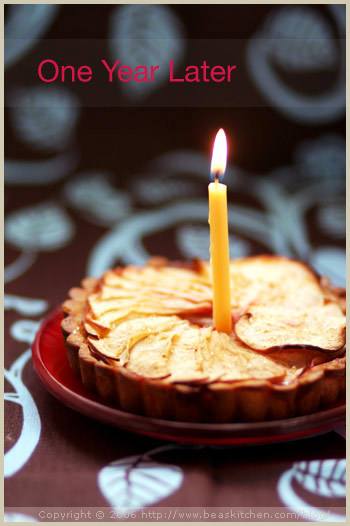 And what a wonderful year it has been, full of so many discoveries!
Sorry for the short absence. I am currently traveling to a wonderful country from which I hope to bring you nice pictures and stories. But back to this special occasion for me.
In November 2005, I started a food blog, and one year later, here we are already! November 2006. Time flies by. I can still see myself when I started! When I told P., "Je vais commencer un blog (I am going to start a blog)". "What?," he replied, surprised.
I feel that I am a lucky woman, and here is why.
In a year, I feel I did so much! I cooked, styled and shot a lot of dishes I prepared, I learned new tricks, and I feel I enriched my cooking répertoire by trying things I would not have thought of before. And then of course, I met you all, my dear readers, without whom this blog would just not be the same. I read tons of great stories, I met some of you in real flesh, others virtually via wonderful food blogs, and I received many emails. All from you. It has been a superb adventure, a great year and I would like to thank you for your constant encouragement, comments and feedback. Food blogging and what is attached to it fulfills me so much that even my words cannot explain that well.
To many more posts and for the love of food! A big thanks to you!
And Happy Thanksgiving! I know that I will not eat turkey tonight!
En français…
Et quelle année ! Tant de découvertes !
Désolée pour cette petite absence mais je suis en ce moment dans un pays formidable d'où j'espère bien vous ramener plein de belles images et histoires. Mais revenons à cette occasion spéciale pour moi.
En novembre 2005, j'ai commencé un blog culinaire, et nous voilà déjà en novembre 2006. C'est fou comme le temps passe vite ! Je m'y vois encore, tout au début! Quand j'ai dit à P., "Je vais commencer un blog". "Quoi ?", il m'a alors répondu, surpris.
Je crois que j'ai bien de la chance et voilà pourquoi.
En un an, il s'en est passé des choses. J'ai cuisiné, stylisé, et pris des photos de nombreux plats, j'ai appris de nouvelles techniques, et j'ai pu enrichir mon répertoire culinaire en essayant des méthodes auxquelles je n'aurais pas pensées avant. Et puis bien sûr, il y a tout ce monde, vous, mes très chers lecteurs et lectrices, sans qui l'aventure ne serait évidemment pas la même. J'ai eu l'occasion de rencontrer des personnes fantastiques, en chair et en os, d'autres virtuellement par le biais de superbes blogs culinaires, j'ai lu un tas de bien belles histoires, et j'ai reçu une multitude de messages. Tous de vous. Cela aura été une aventure formidable, une superbe année, et je voulais vous remercier de vos encouragements constants, de vos commentaires et réactions. Je peux avouer que le monde des blogs culinaires me comble si bien que même mes mots ne peuvent pas l'exprimer avec justesse.
J'espère bien continuer cette belle aventure en célébrant encore et toujours le beau plaisir de la table ! Un grand merci à vous tous !