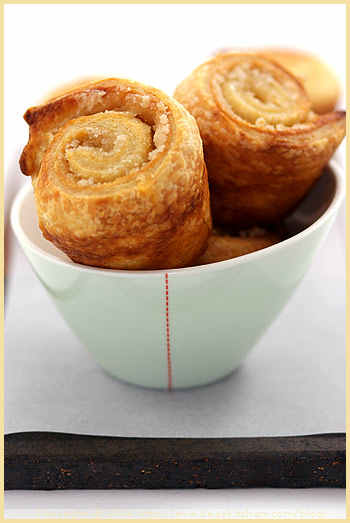 "Quelle heure il est ? Tu es déjà en train de cuisiner ? What can I smell?", P. asked coming down the stairs (What time is it? You are already cooking?) Well, yes I was, but it was easy. And I think we both liked the idea so early on Sunday morning.
Mornings that can be spent feeling lazy, taking the time that we miss to do little things otherwise rushed. Not thinking much about what time it is, or worrying about having to be somewhere at a certain time. The Sundays I like have this taste. They even get better when a fragrant sugary scent makes the whole house smell like a sugar bun. At home, it happens only if I am in the kitchen, but I can always dream that maybe one day, a fairy will start cooking in my own kitchen. Or I could think of casting a spell on P. so that he starts as well. I wish this sometimes, even if I know that if I were to be deprived of cooking, I would become a grumpy little Frenchie. P. reports that he is not keen on getting to this part, so he lets me cook, and I can still hope for the fairy to come.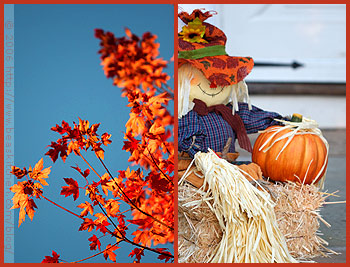 My breakfasts are pretty large. And they are not typically French. Croissants ? Petit noir* ? Non, pas moi (Not me). I must have origins rooted in the Northern parts of Europe (even if I know that my mum's family comes fom Austrian shepherds). Fromage, poisson fumé, jambon, all for me! Le p'tit déj (short for Le petit déjeuner, ie breakfast) usually includes a freshly squeezed juice of some kind, orange or apple, with cereals or granola which I learned to eat in the US. Slices of pain complet (Whole grain bread) are a must but I also love fresh baguettes au levain. While traveling to Iceland, I liked to eat smoked fish, in Italy, I noticed a lof of sweet food, in Turkey, salty cheese with cucumber and tomatoes. In France, as odd as it seems, I actually rarely start my day with viennoiseries or a croissant. I prefer to nibble on those during the day, as an afternoon snack. But there are exceptions.
*Un petit noir (literally a small black) is a term used to mean espresso (un café is by default an espresso in France). You pronounce it "p'tit noir".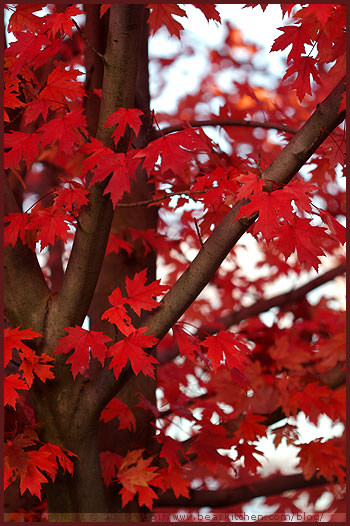 The beautiful red foliage of New England.
After making a batch of croissant dough last week, I divided the dough in two halves. The first half was used to bake croissants, the second one to prepare these Morning Sugar Rolls. And I am so glad I waited for those!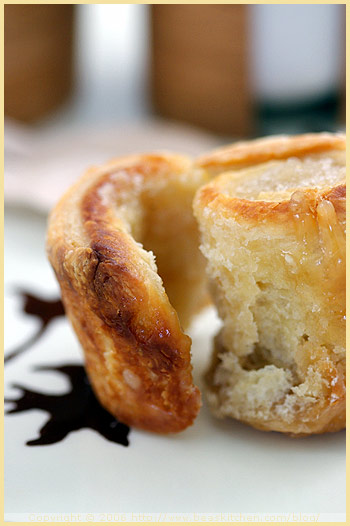 Once you have gone through the trouble of making the croissant dough, nothing is difficult in the last part required to make these sweet viennoiseries. All you need is a little rolling, one-night wait in the fridge, one hour for the dough to proof again at room temperature before the last 20 mns in the oven in the next morning. True, this requires some time and organization, and some patience for sure, so maybe the dream of a little fairy helping with some steps would be ideal. But even without one, it is worth the try. The sugar rolls had a moist flaky dough inside, were crispy on the outside, and offered a delicate touch of vanilla sugar in the middle. Truly delicious! In fact, after eating one, I knew right away that I preferred the croissant dough cooked in those sugar rolls to the croissants made before. And that is saying a lot. As much as I do not often eat sweet breads in the morning, in this case, there was little I could do to resist. They were that good. Even my friend J. stole a few for his breakfast the next day. I must like J. quite a lot for having accepted his request!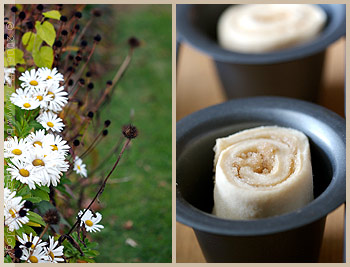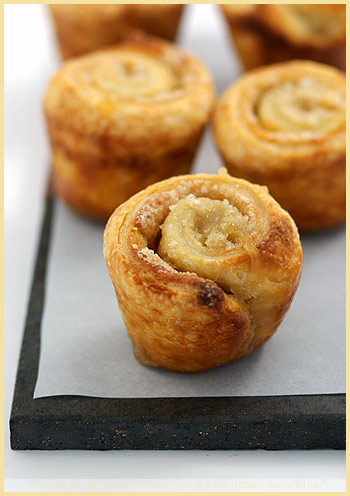 Morning Sugar Rolls
(Recipe from Leslie Mackie's lovely Macrina Bakery and Café Cookbook
)
You need:
Croissant dough see here, half the batch gives 6 rolls.
3/4 cup granulated sugar
2 + 1/4 tsp pure vanilla extract
Spray bottle
Steps:
Follow all of the steps from here until the last one indicating form croissants.
You will prepare your rolls the day before, to be cooked the following day.
Mix together the sugar with the vanilla extract, until all of the liquid is absorbed.
Take the dough out of the fridge and roll it into a rectangle, about 12 x 20″.
Mist it with water from the spray bottle.
Cover with the sugar mixture and roll it into a log.
Cut 6 equal rolls and place them into oiled muffin pans. Cover with plastic wrap and let proof in a warm room for 1 hour (min 70 F) before placing them in the fridge for 8 hours min, or overnight.
The next morning, take the rolls out of the fridge and let rest at room temperature for 1 hour. Then preheat your oven at 385 F and cook the rolld for about 20 min (the cookbook recipe says 40 to 45 mns but I think this is way too long, I checked after 20 mns and it was fine with me). Do not let the rolls cool down in the pan as they will stick because of the sugar.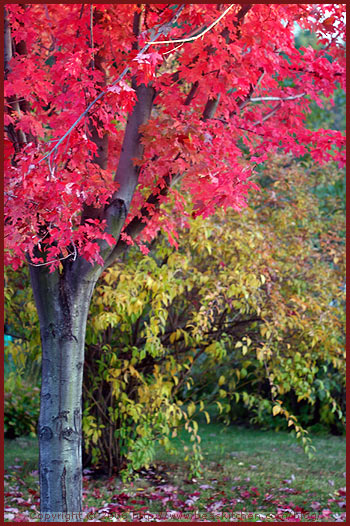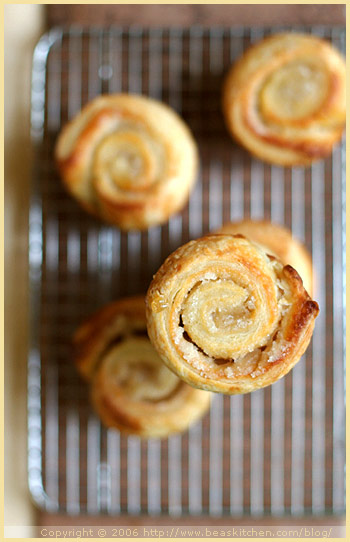 Le coin français
Roulés feuilletés au sucre du matin
(Recette tirée du livre Macrina Bakery and Café Cookbook
)
Ingrédients :
Pâte à croissant voir ici, la moitié de la fournée donne 6 roulés.
150 g de sucre de canne fin
2 + 1/4 càc d'extrait de vanille pur
Vaporisateur
Étapes :
Suivez les étapes de la recette ici jusqu'à l'indication Pour donner forme aux croissants.
Vous préparerez vos roulés la veille, pour les cuire le jour suivant.
Mélangez le sucre avec l'extrait de vanille.
Sortez la pâte du frigo et étalez-la en un rectangle mesurant environ 30 x 50 cm.
Mouillez-le en vaporisant de l'eau sur toute la surface.
Recouvrez avec le mélange de sucre et roulez la pâte comme une bûche.
Coupez 6 roulés de taille égale et mettez-les dans des moules à muffins huilés. Couvrez avec du film alimentaire et laissez lever dans une pièce chaude (min 20 C) pendant 1 heure avant de mettre au frigo pendant 8 heures minimum, ou pendant toute la nuit.
Le lendemain matin, sortez vos roulés du frigo et laissez-les reposer 1 heure à température ambiante. Puis, préchauffez votre four à 190 C et cuisez les roulés pendant 20 mns environ (la recette indique 40 à 45 mns mais je pense que c'est bien trop long, j'ai vérifié après 20 mns et pour moi, ils étaient cuits). Ne les laissez pas refroidir dans les moules car le sucre va durcir et ils risqueraient de coller.