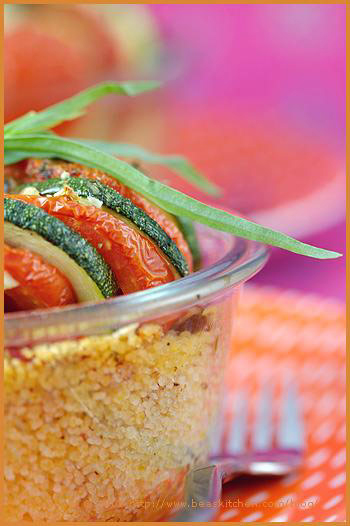 My mum makes an excellent couscous. And by couscous, I actually do not only mean the grain, but the whole dish, with many different types of meat — lamb, beef, chicken, rabbit, merguez — and vegetables cooked in a broth. Not to forget the harissa, of course. But as a little girl, no matter how great les grands (adults) said her couscous was, the only thing I would eat was the grain, la graine de couscous. Plain. I could eat plates of it without any problem, even shoveling it down with bread. Thinking about it now, I do not think there is food more bourrative (filling) than bread and couscous grain together, but I was very happy with it. So yes, I am fond of la graine de couscous.
And so, I always have a lot of ideas as to what to do with this magical grain, from making the real couscous dish itself, to making it plain, so that we can eat it often. Besides being quick to make, it find that it makes a great accompaniment for a wide variety of plats (dishes). It is even quicker to make than rice or pasta. What I do is simple. Typically, after pouring hot water on the grain, I cover it and let it rest so that la graine absorbs the liquid. Then, I work it with a fork to make it fluffy. To enhance its taste and texture even more, I also take it to a step further: I steam it. Either way, I do not think there is something simpler than preparing couscous grain. Whenever my mum made the whole couscous dish, she actually always worked the couscous grain with her hands, which is a task I loved to help her with. This feel and touch feeling was the exact same one to working dough to make bread. A real pleasure.
The recipe I am presenting here is a little different. I found inspiration to make it after seeing a somewhat similar recipe in an old French copy of the Elle à table magazine. Couscous was cooked in the oven, with vegetables. But, instead of the topping they suggested, I chose to make a tian, on top of my couscous (the recipe also suggested a box of prepared couscous that works well if you live in France, but not useful when you live miles away where there is no way you will be able to find the brand and type!)
Couscous et tian ? Je les adore ensemble ! (Couscous and Tian? I love them together!)

Mais un tian, qu'est-ce que c'est ? What is a Tian?
This dish is taking us again to the South of France. The original meaning of the word is actually the recipient in which the dish used to be cooked. Un plat en terre de provence (a Terra Cotta recipient from Provence) used to prepare and cook vegetables. Today, whenever we speak about un tian, we think about the dish rather than the recipient. A tian is layered vegetables cooked in the oven. Different types of tians are possible although the most traditional one is made with vegetables. Since I like zucchinis, red onion and tomatoes, I made a simple tian with layers of those vegetables topped with a mixture of garlic, herbs, and of course olive oil.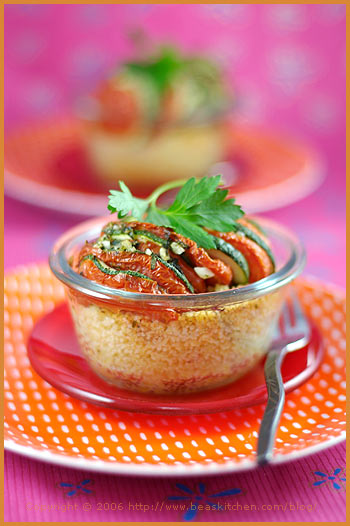 Vegetable Tian and Couscous Grain
(for 4 people)
You need:
About 1/3 cup dry couscous per person, so 1 + 1/3 cup for 4 people
4 tomatoes
2 small zucchinis
1 red onion
1 tablespoon tarragon, chopped
1 tablespoon parsley, chopped
1 inch fresh ginger root
Olive oil
4 piquillos
3 garlic cloves, thinly chopped
Water
Steps:
Preheat your oven at 300 F.
Chop the piquillos.
Grate the ginger.
Mix the couscous with the ginger and the piquillos.
Season with salt and pepper.
Divide the couscous between the 4 small ramekins (or a large one). Set aside.
Boil the water for the couscous (I usually add as much water as there is couscous) and keep it warm.
Wash the tomatoes and the zucchinis and slice them thinly.
Slice the red onion thinly.
Layer them on top of the couscous, upright and tight (zucchini, tomato, onion and repeat)
Season with salt and pepper.
Add the chopped garlic, tarragon and parsley between the layers.
Pour a dash of olive oil.
Pour the hot water.
Place in the oven for about 1 hour 30 mns. Check to make sure it stays moist (add more water if necessary).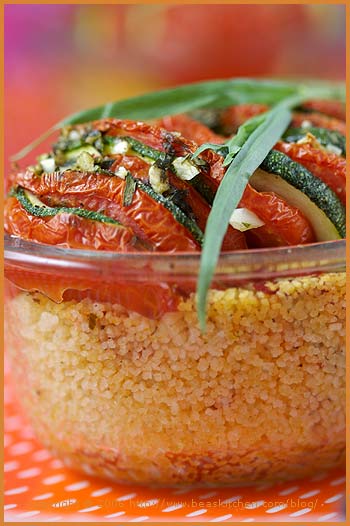 Le coin français
Tian de légumes sur lit de couscous
(Pour 4 personnes)

Ingrédients :
Environ 50 g de graines de couscous par personne, soit 200 g pour 4 personnes
4 tomates
2 petites courgettes
1 oignon rouge
1 càs d'estragon, haché
1 càs de persil, haché
2,5 cm de racine de gigembre frais
Huile d'olive
4 piquillos
3 gousses d'ail, hachée
Eau
Étapes :
Préchauffez votre four à 150 C.
Coupez les piquillos en petits dés.
Rapez le gingembre finement.
Mélangez les graines de couscous avec le gingembre et les piquillos.
Assaisonnez avec du sel et du poivre.
Répartissez le couscous entre 4 ramequins individuels (ou un grand). Mettez de côté.
Faites bouillir de l'eau pour le couscous (J'utilise en général autant d'eau que de couscous en volume) et gardez-la au chaud.
Lavez les tomates et les courgettes et coupez-les en fines tranches.
Émincez l'oignon finement.
Placez les légumes en couches serrées sur le couscous (courgette, tomate, oignon et recommencez).
Assaisonnez avec du sel et du poivre.
Ajoutez l'ail, estragon et le persil hachés entre les couches.
Arrosez d'un filet d'huile d'olive.
Versez l'eau chaude.
Placez au four pendant environ 1 h 30. Vérifiez de temps à autre, pour vous assurer que le couscous ne manque pas d'eau (ajoutez-en si nécessaire).