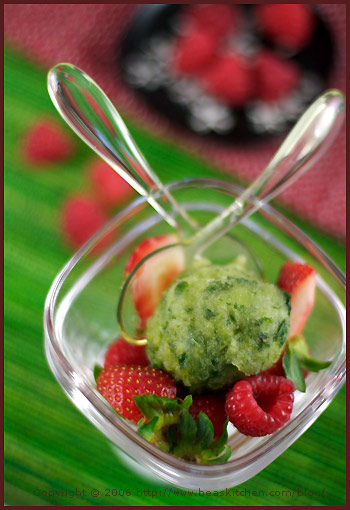 Making sorbet is easy.
Most of the time, you only need sugar, fruit, and sometimes water. Add lime or lemon juice, and it gives punch to your sorbet. In fact, I have a a particular inclination for any sorbet with lime or lemon. Then, wash, mix, strain, and let cool down are among the few actions that involve you, the cook. The rest is done with the machine, if you are lucky to have one. In the summer, I think that fruit sorbets are the best desserts that one can have after any kind of meal. It is light and refreshing, almost acting as a cleanser for your palate.
But what if you decide to make sorbet by replacing the fruit with a particularly fragrant herb, one that loves heat and summer — unlike me who h.a.t.e hot and humid, sticky summers. Come on, where is this beautiful Indian summer? Where is fall? I want them now!

Le basilic – Basil
This herb is green and agaisnt the red of seasonal fruit such as strawberries and raspberries, it is surprisingly good.
Basil likes hot, dry conditions to grow, and hates cold. We all know that. It is also considered the king of herbs by many.
I was attracted by this basil sorbet recipe featured in the last copy of the cooking magazine Delicious. Very simple to make and absolutely enchanting, if you like basil.
The association of the red fruit flavored with raspberry liqueur is a must. Try it, you will be surprised.
And did I mention that this is my entry for Sugar High Friday # 21 – Ice Ice Baby Event hosted by Delicious Life! Thank you Sarah for hosting the event!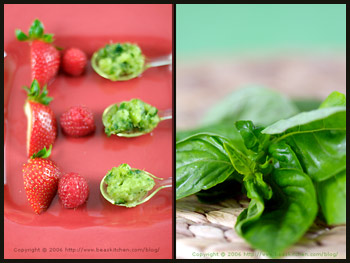 Basil Sorbet and Red Fruit
You need:
5.5 oz caster sugar
500 ml water
2 oz fresh basil leaves
1 Tbsp lime juice (I added more since I like when it is lemony)
4 1/4 oz raspberries
9 oz strawberries
2 Tbsp raspberry liqueur

Steps:

Put the sugar and water in a pot and heat to dissolve the sugar.
When it is boiling, reduce to simmer for 3 mns. Remove from the heat and let cool completely.
Wash the basil leaves and place them in a blender with the cooled syrup. Add the lime juice and mix well.
Strain (or not) the preparation and use an ice cream machine to make your sorbet. Follow the manufacturer's instructions. When done, place in the freezer until ready to use.
Wash your raspberries and strawberries. Cut the strawberries and mix them with the raspberries.
Add the liqueur and mix well.
Place in serving bowls with a scoop of the basil sorbet.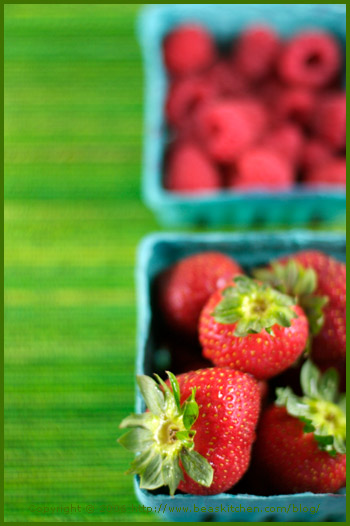 Le coin français
Basil Sorbet and Red Fruit
Ingrédients :
150 g sucre fin
500 ml eau
60 g feuilles de basilic frais
1 càs de jus de citron vert (j'en ai mis plus car j'aime quand c'est bien citronné)
120 g framboises
250 g fraises
2 càs de liqueur de framboises
Étapes :
Mettez le sucre et l'eau dans une casserole et faites chauffer pour dissoudre le sucre.
Amenez à ébullition et faites cuire à petits bouillons pendant 3 mns. Retirez du feu et laissez refroidir complètement.
Lavez les feuilles de basilic et mettez-les dans un mixer avec le sirop refroidi. Ajoutez le jus de citron vert et mélangez bien.
Filtrez (ou pas) la préparation et utilisez votre sorbetière pour réaliser le sorbet, Suivez les instructions du fabricant. Une fois fini, mettez-le au congélateur jusqu'au moment de vous en servir.
Lavez les framboises et les fraises. Coupez les fraises et mélangez-les avec les framboises.
Ajoutez la liqueur et mélangez bien.
Mettez dans des bols avec une boule de sorbet au basilic.