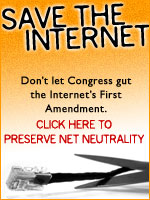 Did you know this? As scary as it sounds, one of the most basic thing about the internet is threatened: your free access to it.
Food bloggers around the world have decided to make this a day without food blogs so that we all become aware of what is happening.
Check out Chez Pim's post for more information about this terrible crazy issue, and all participating food blogs here.
We can do something, by signing the petition here.
tag(s):Net Neutrality | Day without Food Blogs