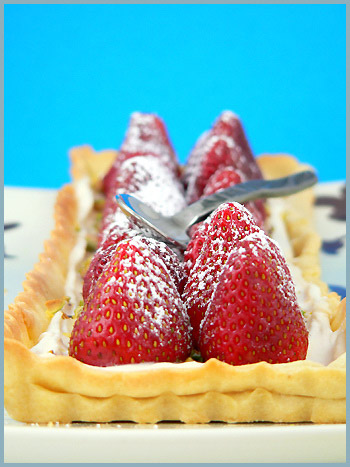 Bleu, blue for boys
or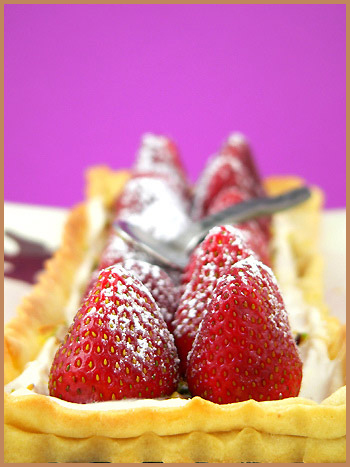 Rose, pink for girls
Which one do you prefer? It is hard sometimes to decide, don't you think? I can be the real queen of undecisiveness! So my idea was easy. I don't have to choose, there is blue for boys and pink for girls. Such a cliché!
Tarte aux fraises
Again?
Another one?
My apologies but I have 2 reasons, or 3 for this tart.
1- This was the dessert I baked for the lovely dinner made by Helen from Beyond Salmon last night at her house: chickpeas stew, verde salsa and grilled blue fish followed a very tasty fennel&grapefruit with greens salad. I do not often have the opportunity to meet another food blogger (since many of the ones I am a regular reader of seem to all congregate on the West Coast of the United States, overseas or in France), so I was delighted to get this opportunity. And in 1 word, it was superb! Like Tea describing it here, I experienced a nice happy moment. Un petit moment de bonheur!
2- I wanted to try Pierre Hermé's pâte sablée instead of the puff pastry I used for my recipe here.
3- Strawberry month, isn't it?
Ivonne worked on lemony dishes with great looking recipes on her blog, I am just inspired by the red of the strawberries and raspberries.
Pierre Hermé's Pâte Sablée from Plaisirs Sucrés
I had made pâte sablée (sweet dough) before of course but was just curious to try the one I found in my cookbook Plaisirs Sucrés. I looked at this as a scientific experience and a lab test and did follow the steps to the letter (à la lettre), because my point was to try to answer this question: does it work? Result: it did. Merci Mr Hermé, your dough is quite good. I was new to the concept of adding almond flour in it.
Strawberry Tart, Hermé's Sweet Pastry
For 2 tarts (10.5″ diameter mold)
Note:
For the purpose of accuracy and since the original recipe measurements were in
grams
, I am giving the measurements in
ounces
instead of cups so that they fully translate the original ones. I omitted a grated vanilla bean as well.
You need:
8.8 oz flour
3.5 oz confectioner's sugar
1 egg (large)
2.5 oz butter (room temperature)
1 oz almond flour
2 pinch of salt

Steps:
Sieve the confectioner's sugar and flour, separately.
In a food processor, mix together the egg and butter.
Add the confectioner's sugar, then the almond flour. Mix together.
Then add the salt and the flour. When the dough detaches from the bowl, stop as it is ready.
Flatten your dough and cover it, to place in the fridge for a minimum of 1 to 2 hours.
Roll it and place it in a buttered mold (mine is rectangular, 4.5″x 14″) and place in the fridge again for 30 mns.
Take it out an prick some holes at the bottom before placing it again for 30 mns.
Cook it in a preheated oven at 350 C for 15 mns (you can cover the dough with parchment paper and a weight to prevent it from rising if you like, I skipped this step and it worked fine).
Le coin français
Tarte aux fraises, pâte sablée Hermé
Ces proportions sont pour deux tartes (mon moule rectangulaire mesure 11 x 35 cm, ou un moule de 26 cm de diamètre).
Ingrédients :
250 g farine
100 g sucre glace
1 oeuf
150 g beurre (température ambiante)
30 g poudre d'amandes
2 pincées de sel

Étapes :
Tamisez le sucre glace et la farine, séparément.
Mélangez l'oeuf et le beurre dans un robot.
Ajoutez le sucre glace, puis la poudre d'amandes.
Continuez avec le sel et la farine. Mixez. Lorsque la pâte se détache du bol, elle est prête.
Formez-la en boule et aplatissez-la.
Couvrez et mettez-la au réfrigerateur (2 heures).
Une fois prête à être utilisée, garnissez un moule beurré et remettez au frigo pendant 30 mns.
Sortez le moule et piquez le fond avec une fourchette avant de remettre au frigo pour à nouveau 30 mns.
Cuisez la pâte à blanc dans un four préchauffé à 180 C, pendant 15 mns.
Ok, I gave up, I chose pink!