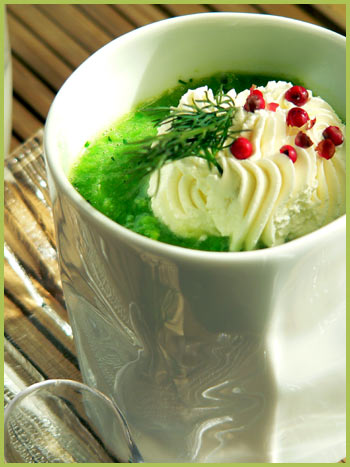 Green Pea Soup
Give me three things:
Green for Spring
White for Purity
Food for Joy
Don't you agree that white and green go so well together?
The soup season should be over but luckily for the food scene, the 4 seasons always bring something to celebrate, with one thing replacing another. After hearty winter soups come much lighter spring ones.
I have a love for peas, its green which is such a spring symbol in my eyes, and opens the door to summers when I can lie and nap in a field under a cherry tree. Such are the summers I like, when the pace slows down, the sounds are vivid and we replenish in fresh juicy foods. It does feel good even to write it down, doesn't it?
So green has always been a colour I love in food, especially very light lime green. It makes things cheery! So what to do to keep this green? I have realized one thing. Cooking is like painting. What do you think happens if you mix blue with yellow? Any painting memories here? The key lies in the broth. If you want your soup to keep its nice green you envisioned while cleaning your peas, you should not add the wrong "colour" to it. In other words, you need to control what is put into it. Therefore the broth plays a key part. In 3 words: do it yourself. This is certainly something that matters. I would be curious to know what you think if you try. It did make a difference in my soups and since I like to paint and play with colours, I was very pleased with the results. Even more when I decided to play and added white. How?
La chantilly
Or commonly known in English as whipped cream, which I added to the soup. Comment? (What?) "in savoury food" I hear you say? Yes. Did you know that you can have chantilly with savoury food? I am sure that many of you do. I find it a very interesting addition, all the more as you can play with flavors according to your preferences and fancies du jour! You can add a dash of curry, pink peppercorns as I did, horseradish, herbs such as chopped chives or basil. You can add those touches before finishing to beat the chantilly firm (for the curry powder or the herbs) or when it is firm and done (for the horseradish or pink peppercorns), then making sure to mix carefully so that you keep the nice texture of the chantilly.
And there is a reason for pea soup
My pea soup craving occurred a week or so ago, after P. and I went to Spire with friends, to enjoy an incredible tasting menu, under the supervision of chef Gabriel Frasca who was giving his last dinner in the restaurant, before taking off for new further afield cooking adventures with chef Amanda Lydon. As we were all sitting around the table, Chris Lydon, Amanda, Jake, Lena, P. and I could not help contain our excitement, displaying red happy glows on our faces every time we could see another of those gorgeous dishes coming to our table. It was so overwhelming that as impossible as that can be, I mostly forgot the details of the complex dishes we had, except one: pea soup. Gabriel will be missed for sure. So during the 8 course dinner (or more), one of the dishes featured an amazing pea soup. Smooth, so green that I just felt like staying and staring at it. Already at that point, I had decided that I was going to try to make my own at home.
My soup texture is different of course (what is the secret Gabriel?) but I was pleased with the taste all the same. I got the sweetness and lightness, as well as the freshness I needed: cucumber, mint and fresh peas cannot go wrong.
Here is to a nice velouté de petits pois.
Pea Soup
(for 4 people)

You need:
Cold heavy cream for whipped cream (chantilly) (50 cl for 4 to 6 people)
Pink peppercorns (or green)
1 tbsp fresh dill
1/2 English cucumber
500 g fresh peas (without shells)
1 carrot
1 celery branch
1 fresh onion
1/2 l water
Salt and pepper
Steps:
Bring the water with salt to a boil.
Peel the carrot and chop it into slices, then add it to the water.
Add the chopped celery branch and onion cut in large pieces.
Simmer for about 25 to 30 min.
Then remove the vegetables from the broth.
Add the peas to the broth and cook for a few min only.
Peel the cucumber, remove the seeds and cut it in small pieces.
Mix the peas, the broth, the dill and the cucumber together, then add salt and pepper to taste.
Whip your cold cream into whipped cream.
Place the soup in glasses or cups.
Add a drop of whipped cream on top (with a decoration bag) and a few peppercorns to decorate.
Let's play with colours now
Before the chantilly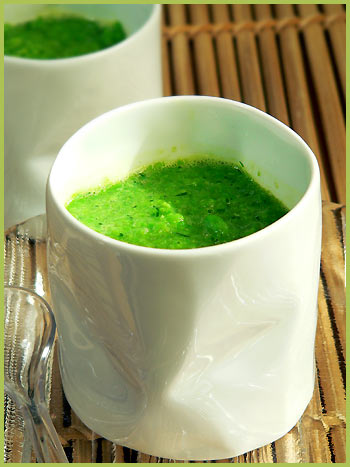 After the chantilly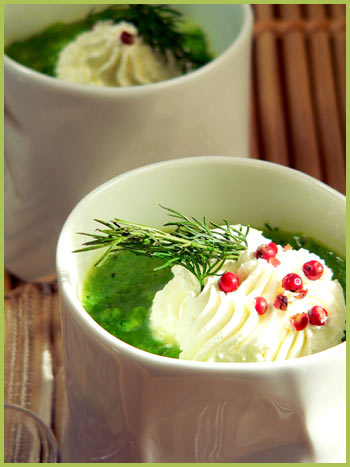 You mix them together, and you get: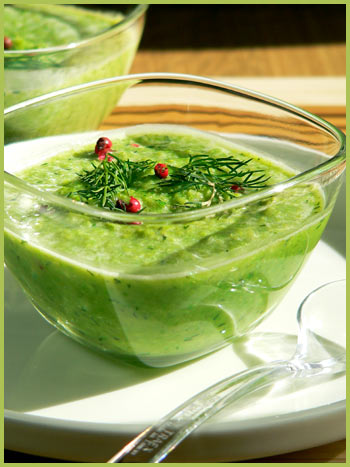 And enjoy, cold or warm.
Vive le printemps, non?