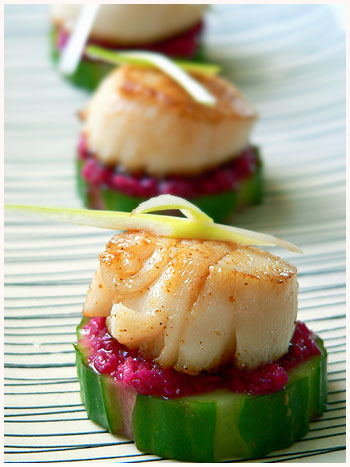 I do impulse buys. Many times. It is not yet a handicap (I mean, I know about it) but all the same, it is sometimes what is the word?, overwhelming and burdening. I could feel sorry for that thing I just bought, promise it will not happen again, burn it so that I don't see it and have to feel bad, make a prayer, eat chocolate to forget, but I really do not need to, because in America, there is a façon d'être, a habit that saves moi and my bad habit. And this is how.
After an impulse purchase, you usually rush home (at this point, you still like your thing). You look at it, you might place the thing on the bed or a chair. There is a tiny chance that you might forget about the thing when the phone rings and you run to get it before the voicemail picks up. The following day, quite possibly, you could remember about the thing and realize how much C…it is. In most places (France is one!), you would be stuck with the thing. But not in America! In America, when you do not like the thing you just bought, what do you do? You go back and retrace your steps in order to R E T U R N the thing!
And so you might wonder what food has to do with this account?
With food, impulse buys exist too. At least in my world. Oddily enough though, there are of a different kind. I might be thinking "What was I thinking?" as well ( a lot of thinking in Béa's head), but I always manage to find a way to keep the thing and make good use of it. Is it my love for food? I quite like those clothes I spontaneously buy from time to time. Food is just different. Hence for every trip to my grocery store, I always run the risk to suffer from an impulse buy. Without a what-to-buy list in my hands, the statistics for this to happen run higher.
It happened last week when I went to my local store. I found a new gold treasure: Beet Horseradish.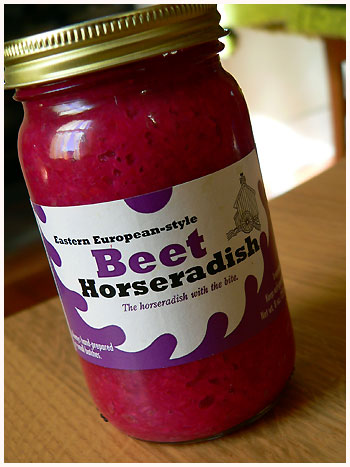 What took me about the item was two things, actually four.
Love beets.
Love horseradish. Ah le bon raifort!
Love the raspberry-fushia colour (I am a girl, what can I say)?
I thought, What a cool jar, if I buy the horseradish then I have the jar.
Last week, I came home with a thing and there was no way I was going to return it. I was going to cook something and this is what I imagined:
Scallop Horseradish Finger Food
You need:
Fresh scallops (no water, medium to large sized) – as many as you need amuse-bouche (finger food).
1 cucumber
Beet horseradish (the one I found is grown locally in MA)
Vegetal oil
1 scallion
Fleur de sel
Cayenne pepper
Steps:
Pat the scallops in a paper towel before using to keep them dry.
Heat some vegetal oil in a pan and when hot, sear the scallops (only a few mns as they need to remain half-cooked in the middle).
Add a dash of cayenne pepper.
Make nice slices in the cucumber (make nice cuts on side).
On a piece of cucumber, put some beet horseradish spread and then place a scallop on top.
Sprinkle with fleur de sel and tiny twigs of a thinly chopped scallion.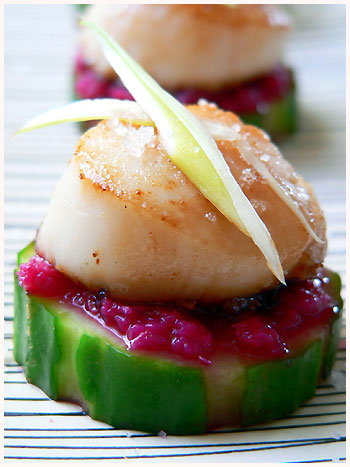 This is a great little amuse-bouche (finger food), a snack, or a small appetizer. Party time!
If you do not find this beet-horseradish spread or you hate even the thought of it, I am sure you can either make some (I plan to do that) or substitute it with something similar (it has to be fushia or red, come on, we need to keep the fun). What attracted me was also the colors!