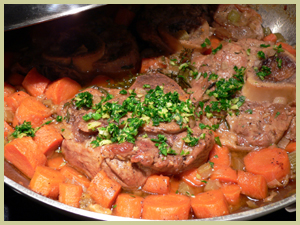 At this time of year, there is nothing better than making comforting food. What is this you would say? I suppose people have various opinions as to what food feels comforting to them, but for me, that means slow cooking, simmered food, plat unique (one single dish) that you proudly place on the table and share with friends, in its pot, and that you cooked from old recipes passed on from one generation to the other and that will make everyone happy. In other words, there is a high sense of conviviality and tradition. For some odd reason, I prefer to cook these foods in the fall or more particularly in the winter. If it snows outside, what a life! Ideal!
Last night, we had some friends over for dinner and I decided I was going to make Osso Bucco.
Follow on there is more to hear!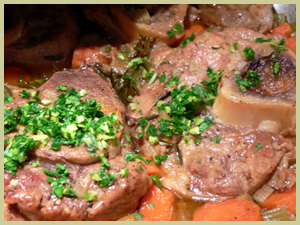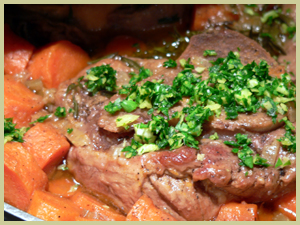 It turned out to be the perfect choice as we could hear the wind blowing outside–which meant "cold, stay inside, stay warm", — , and preparing us for this morning first winter snow storm. I served it with nice large pasta, that has the shape of ears, and of course nice rustic bread (pain de campagne). The gremolata is a perfect not-to-be-forgotten friend to Osso Bucco, so make sure not to forget it (which happened to me once, as I was carried away and pretty starving, hence did not think, but focused on buzz words "I am hungry and I need to eat now").
So if you are not sure what ideas to have of plat unique, I suggest some below, learned along the years and kept in my repertoire as they bring amazing childhood memories.
Those dishes usually involve sauce, one great part of the meal is to dip bread in the pot at the end, au fond du pot, to make sure to not miss a bit:
Pot au feu (beef dish)
Boeuf bourguignon (beef dish)
Blanquette de veau (veal dish)
Bouillabaisse (fish dish, originally from Marseilles)
Couscous marocain (meat dish, lamb is one)
Lasagnes au boeuf (beef dish)
Jarret de veau au gingembre et à l'orange (veal dish)
Boeuf aux carottes (beef dish)
Endives au jambon (pork dish)
Moussaka (lamb dish)
Tajines (the list is so varied and long)
Canard à l'orange (duck dish)
Lapin à la moutarde (rabbit dish)
Petit salé aux lentilles
Choucroute
Navarin d'agneau
Langue de boeuf
I could give translations for those but I almost feel something would be lost while translating, silly me!
To finish, there is no better way than remind us all that we should all take advantage of the time we end up spending more inside, at this time of year and in this part of the world (well, yes think, in New Zealand, they have no clue what I am talking about since it is summer there now, which means BBQ). The best thing to do is to eat seasonal, hence winter for us, which brings great delicious comforting food.
Check other comfort food resources from the beautiful food blog Frais and practice your French! 😉