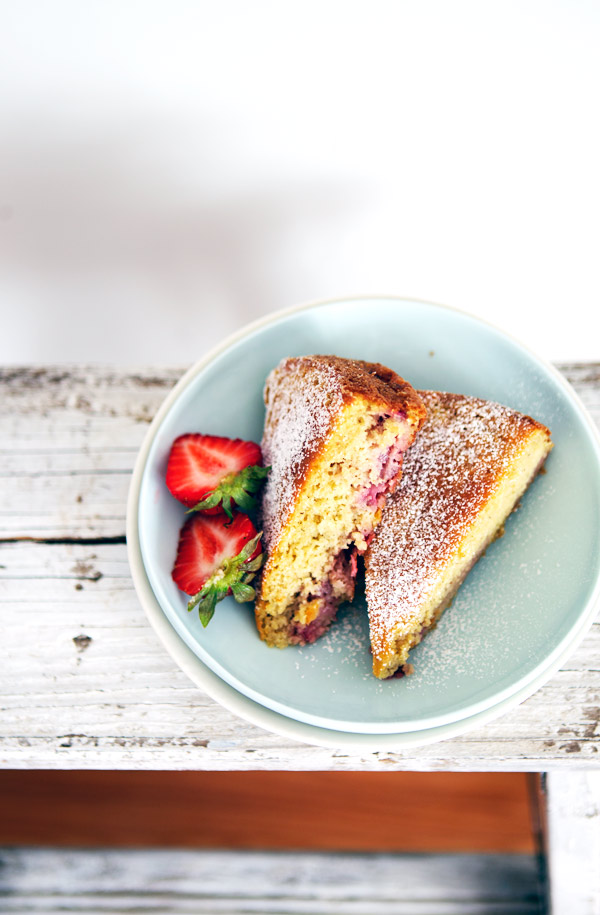 Hello Montréal!
Hello everyone,
We arrived late last night. Tired but happy to be back in Montréal. Ready for tonight at Chapters Indigo.
Are you coming?
I also realized that I had forgotten to tell you about the delicious strawberry cake I baked right before leaving.
Light like a feather! Springy. Nutritious. Not too sweet, but just right.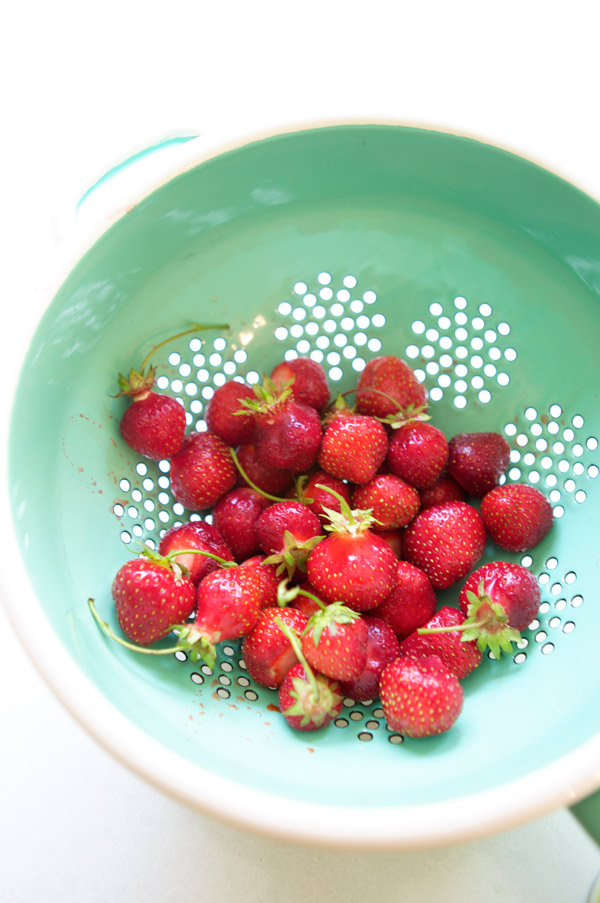 Garrett inspired my recipe (and his was inspired from Deb–isn't it funny how a recipe can evolve?) His cake recipe made me crave to bake a similar cake for breakfast, but with my own touches and tweaks.
So I did.
And we loved it.
And because I had a few slices remaining, I decided to pack them for our road trip yesterday on our way to Montréal. And oh oh, I need to tell you how nice that felt when, by five o'clock in the afternoon, we stopped for a nibble. We sat around a wooden picnic table by the side of the road. It was sunny and the fresh air did us some good. And so did the cake and fresh strawberries I had packed as well. With tea.
And now we are settled in a lovely B&B. Hanging out for the day. Mostly resting. Tonight is a special time to meet some of you at the bookstore.
And tomorrow morning (Saturday April 21st), I will be on the 8 AM CBC Radio Show in the "All in a weekend" show with Sonali Karnick.
I am excited for everything that is happening in Montréal.
More on Monday!
But in the meantime, bake the cake and enjoy!
Update: This is the short interview I had with Sonali Karnick on Saturday. She was so friendly. So welcoming! Thank you Sonali (and especially to my friend Sylvie!) I loved being there.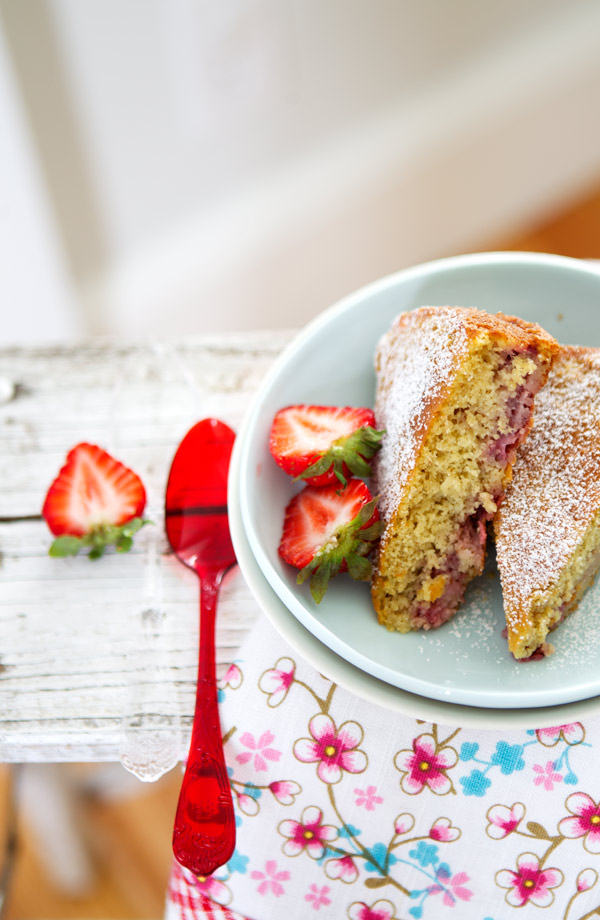 Strawberry, millet, and almond cake with buttermilk recipe
You need:
1/2 cup (60 g) almond meal
1/2 cup (60 g) millet flour
1 teaspoon baking powder
1/2 teaspoon baking soda
Pinch of sea salt
4.5 tablespoons (60 g) unsalted butter, softened
1/3 cup (80 g) blond cane sugar
1 vanilla bean, split open and seeds scraped out
2 large eggs
1/2 cup (120 ml) buttermilk
6 ounces (170 g) strawberries, hulled and sliced
1 tablespoon confectioners' sugar, to serve
Steps:
Preheat the oven to 400 F and butter and flour a 9-inch cake mold; set aside.
In a bowl, combine the almond meal, millet flour, baking soda, baking powder, and salt; set aside.
Beat the butter in a stand mixer until creamy. Add the sugar and vanilla seeds, and beat until smooth and creamy.
Add the eggs, one at a time, making sure to scrape down the sides and bottom of the bowl while working.
Add the flour mixture and then the buttermilk, and beat until well incorporated.
Fold in the strawberries, then pour the batter into the mold.
Bake the cake for 30 minutes, or until the blade of a sharp knife inserted in the middle comes out dry.
Let the cake cool for 5 minutes once out of the oven. Release the edge with a knife, if necessary, and then flip the cake onto a wire rack to cool completely.
When ready to serve, dust with confectioner's sugar.
Le coin français
Gâteau aux fraises, au millet et aux amandes avec lait ribot
Ingrédients :
60 g de poudre d'amandes
60 g de farine de millet
1 càc de poudre à lever
1/2 càc de bicarbonate de soude
Pincée de sel de mer
60 g de beurre non salé mou
80 g de sucre de cane blond
1 gousse de vanille, fendue en deux et grattée
2 gros oeufs
120 ml de lait ribot
170 g de fraises, nettoyées et coupées en lamelles
1 càs de sucre de glace, pour servir
Etapes :
Préchauffez le four à 200 C et beurrez et farinez un moule à gâteau de 23 cm; mettez de côté.
Dans une jatte, mélangez la poudre d'amandes, la farine de millet, la bicarbonate de soude, la poudre à lever, et le sel. Mettez de côté.
Battez le beurre en pommade puis ajoutez le sucre et les graines de vanille. Battez jusqu'à ce que le mélange soit crémeux.
Ajoutez les oeufs, un à un (raclez les bords du moule en travaillant).
Ajoutez les farines puis le lait ribot, et mélangez bien.
Ajoutez les fraises et mélangez délicatement.
Versez la préparation dans le moule et cuisez le gâteau pendant 30 minutes, ou jusqu'à ce que la lame d'un couteau insérée au milieu en ressorte sèche.
Laissez le gâteau refroidir pendant 5 minutes. Passez la lame du couteau sur le bord du gâteau pour qu'il se démoule plus facilement, puis démoulez-le.
Au moment de servir, saupoudrez de sucre glace.