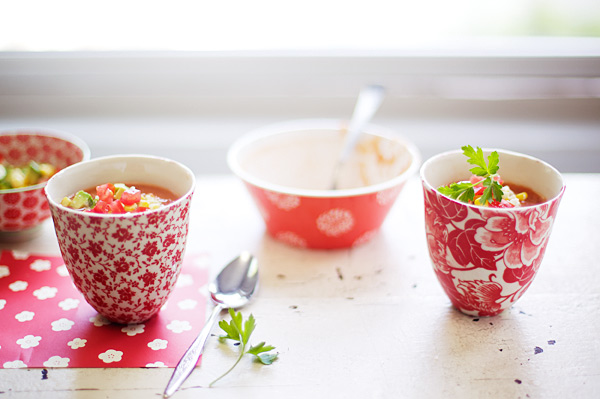 Lulu looked at me, then she opened her mouth, keen to take the spoonful of gazpacho I was holding in front of her. I was watching her carefully, curious to find out what would happen next. Her face stretched into a grin and a funny-sounding laughter escaped through her lips, one that seemed to tell me "Tu plaisantes maman?" (Are you joking mummy?)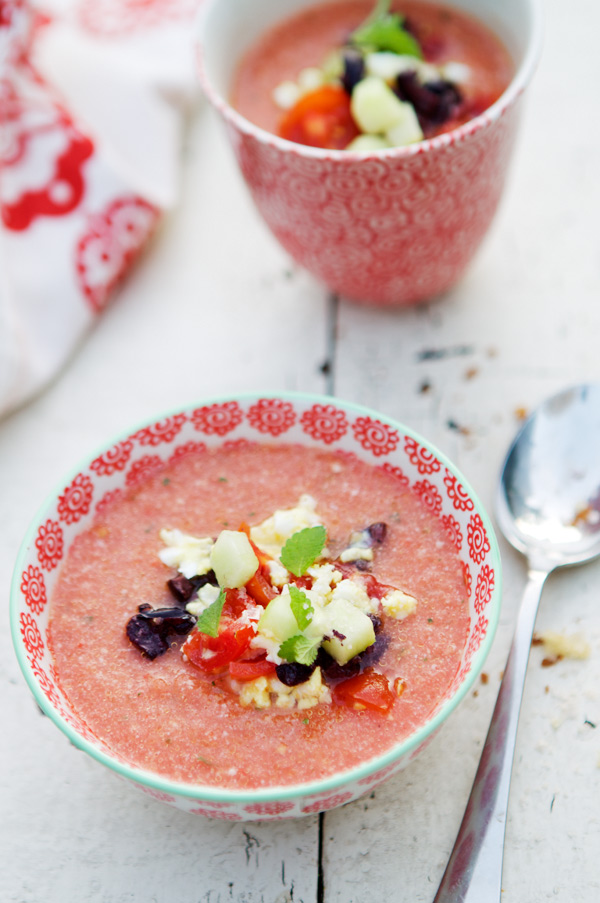 "Oh oh, de la gaspacho, ma Lulu!" I exclaimed. "Essaie !" (Try)! "Tu n'aimes pas?" (Don't you like it?)
She was eating the soup for the first time, so I didn't worry if she didn't seem to like it. I knew that one day, when feeling ready, she'd come back to it. And enjoy the flavors of the soup that rhyme so magically well with summer. Suffice to look at all this eye-catching red!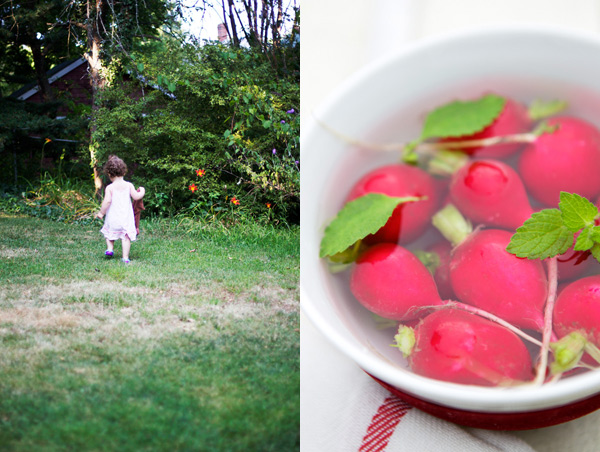 She pointed at the bowl of radishes on the table instead.
"Tu préfères un radis ?" (Do you prefer a radish?) I asked, holding a pink radish to her. She took it from my hand without hesitation, murmuring a Thank you in her own words, and then she bit into the radish. Happy now, it was obvious.
I grabbed one too and we both sat at the dining room table by the back garden, busy eating our radishes with contentment, appreciating the crunchiness and peppery taste that the food released on our tongues.
Lightly seared salmon and a pot of warm brown rice cooked with marjoram, cumin, cream, peas and watercress were following–foods she never says no to either.
Just like the fresh raspberry and custard tart I had baked in the morning.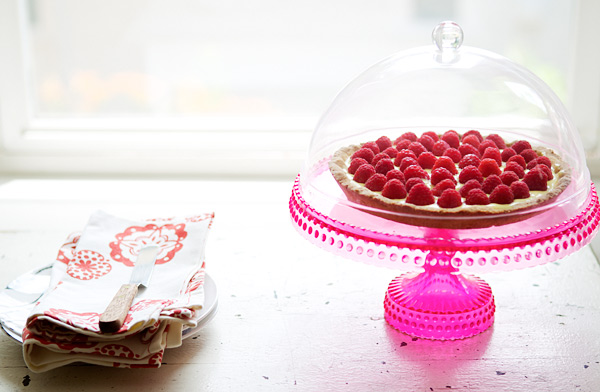 As to P. and I, we were thankful for the pot of gazpacho I had prepared. A large pot with colorful toppings to give more body to the soup.
"Miam, c'est super bon," P. said after a taste. (Yum, it's delicious!) I had found beautiful organic tomatoes that had the name gazpacho written all over them. So gazpacho there was. Plenty of it, in fact, in the week that followed.
The first time I prepared the soup, I used leftovers of brioche previously soaked in water. The next time–this recipe–I decided to skip the brioche, and served the soup with toppings that included fresh corn and diced avocado. We had enough for two days, which is always a bonus with a food like gazpacho as flavors will have had the time to develop.
I am still not sure which recipe I preferred. They were different but similar at the same time–I am sure you have your own variant too, non? Both were a refreshing way to start our meal. Ideal for the warm temperatures of the day. Summer.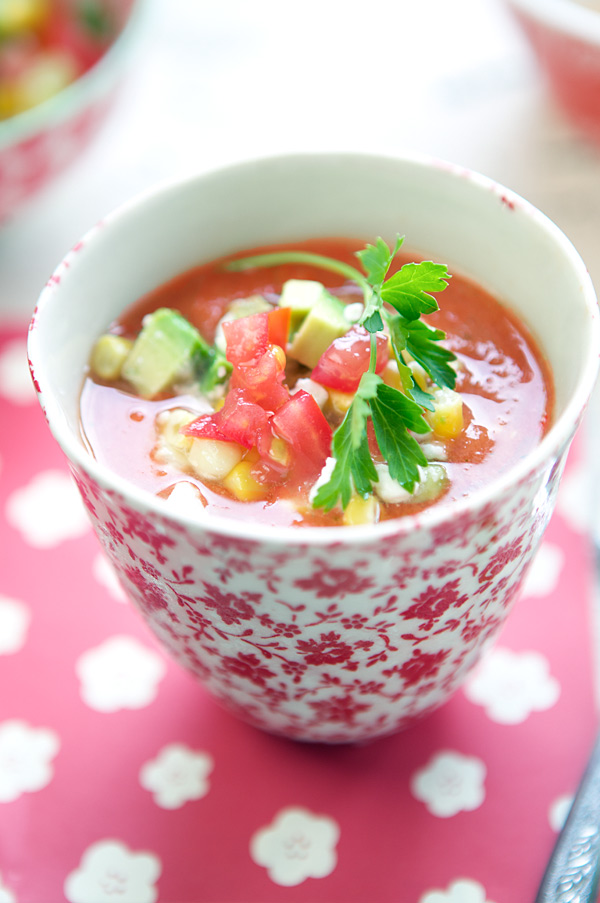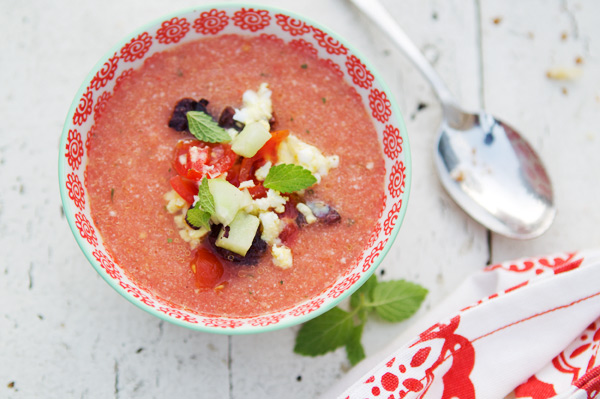 Of course, the best tomatoes make the best gazpacho. Which means that gazpacho is really at ist best when prepared during summer. En été.
I remember that when I was still living with my parents, my mother never bought out of season produce. I remember that she always made a point about it even more at times when I'd beg for strawberries during winter. In the French countryside where I grew up, it was hard to find them anyway. So we ate seasonal food. In summer, vegetables that grew in the garden, like peas, salad, haricots verts, carrots, beets, zucchini, radish.
And tomatoes. Des tomates.
Oh homegrown tomatoes!
They simply stand out, don't they?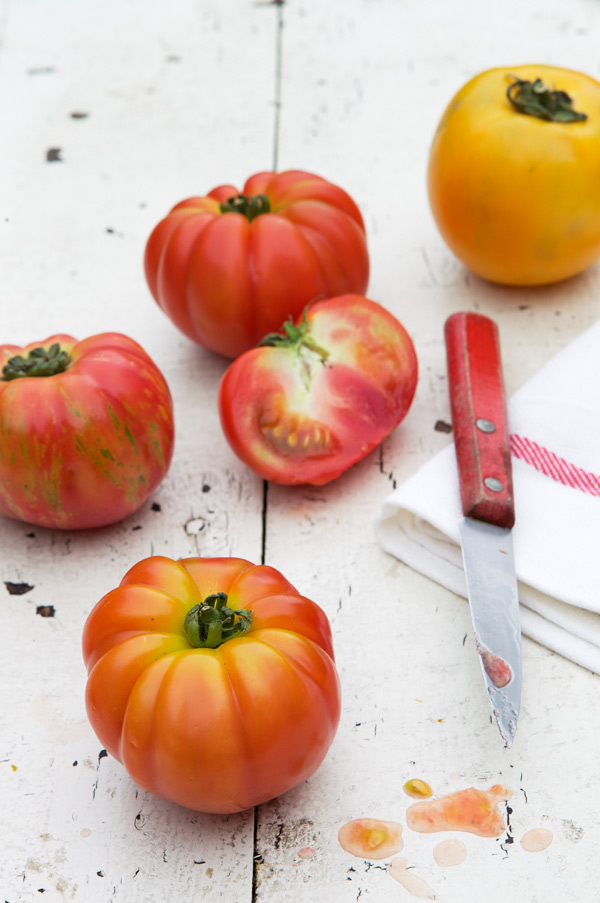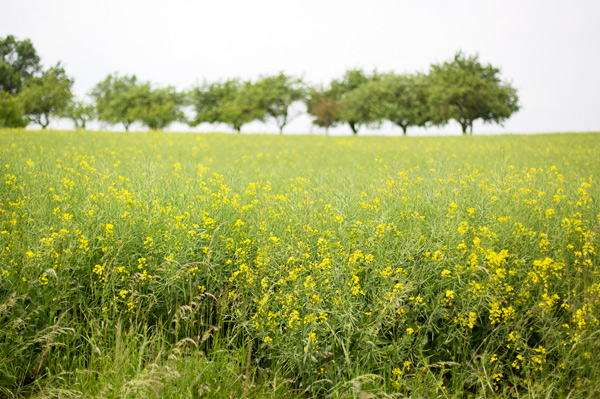 Make a large pot and serve it as an appetizer or a main course for a light meal. Or serve the soup in shot glasses, as an amuse-bouche to start a meal. I've done this many times, and it's always something our friends enjoy.
We all do.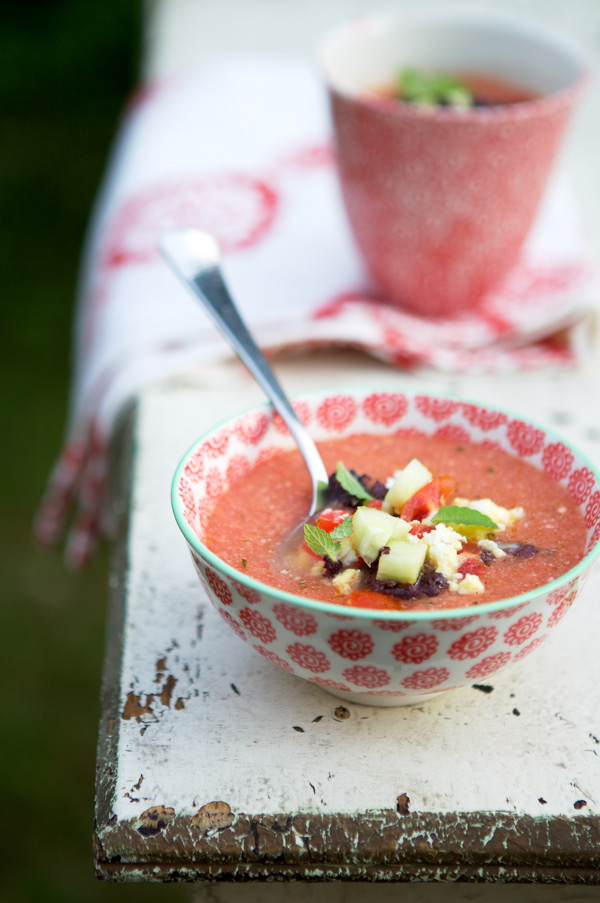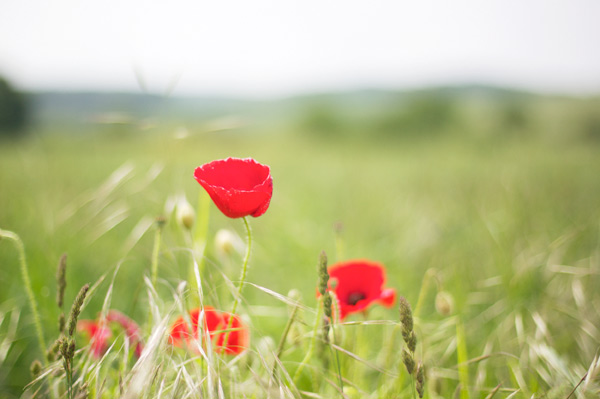 Gazpacho
For 4 to 6 people, according to serving size
You need:
For the cold soup:
2 1/4 pounds ripe tomatoes
1 red pepper
1 English cucumber, peeled and seeded
1/4 red onion, peeled and roughly chopped
2 garlic cloves, peeled
Sea salt and pepper
1 tablespoon chopped tarragon
2 tablespoons sherry vinegar
1/3 cup olive oil
Sea salt and pepper
Dash of chili flakes
For the topping:
Reserved cucumber, diced
8 cherry tomatoes, diced finely
2 hard boiled eggs, crumbled
1 ear of corn, blanched and kernels sliced off
1/2 avocado, diced finely
1 small shallot, chopped finely
Olive oil

Steps:

To make the soup, blanch the tomatoes in boiling water for 1 minute. Rinse them under cold water to cool them and stop the cooking process. Peel, core, seed and dice them.
In the bowl of your food processor, combine the tomatoes, pepper, 3/4 of the cucumber, onion, garlic, tarragon and a dash of chili flakes. Blend until very smooth in texture. Stir in the sherry vinegar, olive oil, season with salt and pepper and transfer to a container. Cover and refrigerate for 3 hours, or overnight so that the flavors develop even more.
Serve the soup in bowls and top with a mixture of hard boiled egg, chopped tomato, cucumber, avocado, shallot and corn. Add a drizzle of of olive oil and season with more salt or pepper and oil if necessary.