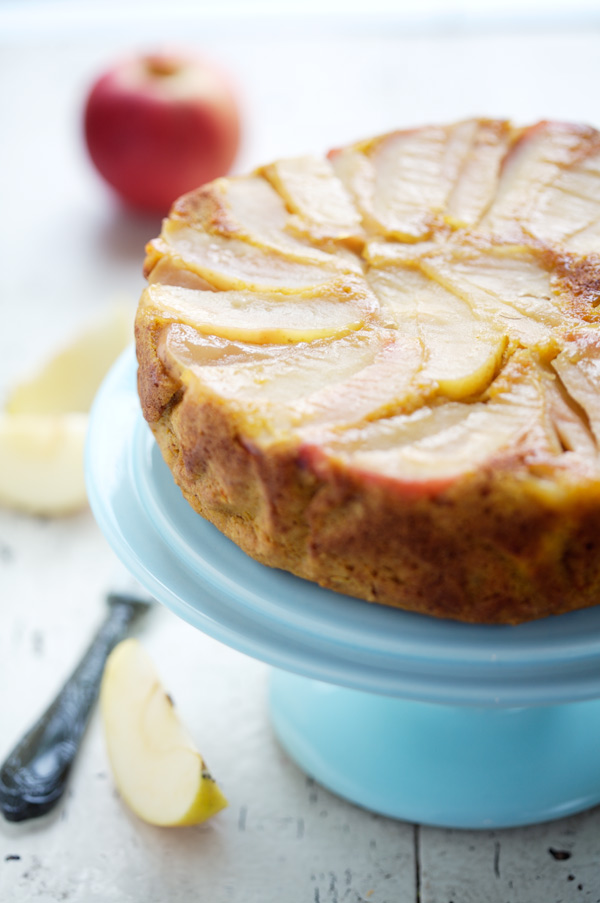 Apple and pumpkin upside down cake
"You'll make a dessert, ok?" my friend R. asked. We were talking about the Thanksgiving dinner that he was hosting, once again.
"Sure."
"Can you make something with apple?"
I liked the idea. Especially since I've been storing the last seasonal Heirloom apples I could find! Leaving the store, I felt like a squirrel storing her nuts. This is how much I am going to miss local apples.
So I baked a cake. An apple and red kuri squash upside down cake, to me more precise. And this is what I will bring tomorrow to our Thanksgiving dinner.
We'll enjoy wonderful food and wine, and like most of you I hope, have a fun time with our friends. They are the family we do not have close by.
"What about the sunchokes?" I added.
"What about them?"
"Can I dig some out?"
My friend R. told me he had plenty of Jerusalem artichokes in his back garden — one of my favorite root vegetables. I made him promise that I would be able to bring some home. I am already thinking about gratins and soups and salad!
That was the condition on the apple cake.
Of course.
Have a lovely time everyone!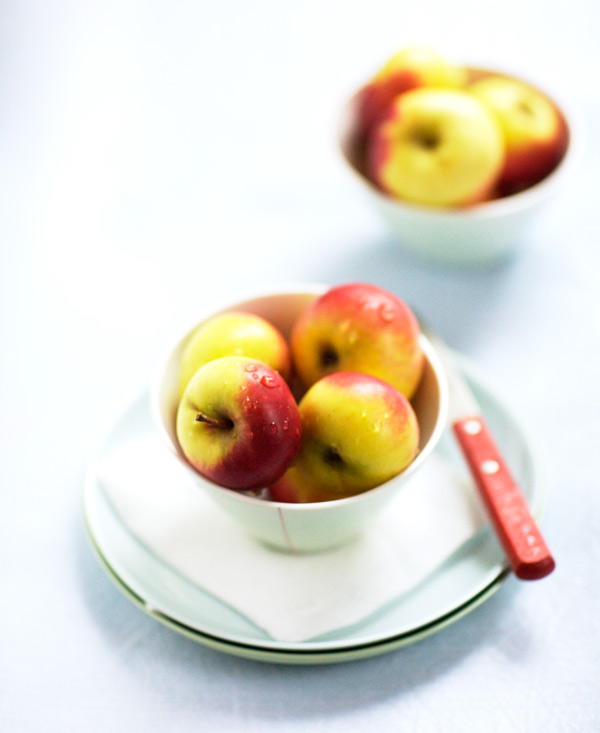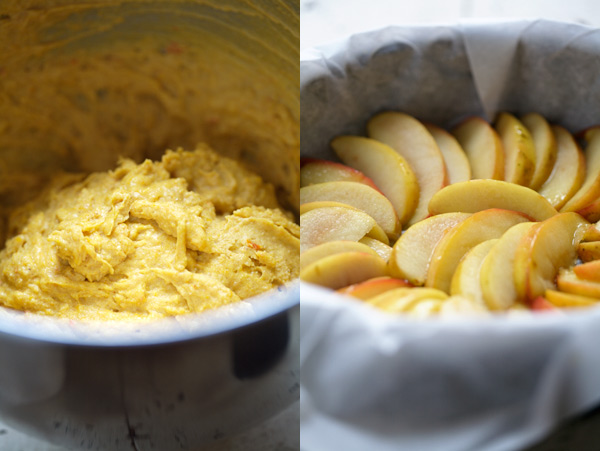 Apple and pumpkin upside down cake
You need:
2 large (or 3 small) Heirloom red apples, cored and sliced
1 tablespoon butter + to butter mold
1 tablespoon honey
Drizzle of lemon juice
1/2 cup blond cane sugar
2 eggs
7 tablespoons butter, melted
2/3 cup puréed pumpkin*
1/3 cup buttermilk
Pinch of salt
1 teaspoon baking soda
2 teaspoons baking powder
1/2 cup quinoa flour
1/2 cup brown rice flour
1/4 cup tapioca flour
1/4 cup sweet rice flour
1 teaspoon ground cinnamon
1 teaspoon freshly grated ginger
1/4 teaspoon nutmeg
*Using a red kuri squash, cut open and remove the seeds. Dice and steam until fork tender. Use a food mill to puree the squash.
Steps:
Preheat the oven to 350 F. Butter a round 9- inch mold and cover with a large piece of parchment paper; set aside.
In a frying pan, melt 1 tablespoon of butter over medium heat. Add the apple slices and the honey. Toss well and cook for about 3 minutes, or until the apples are slightly tender. Drizzle with lemon juice.
Arrange the apple slices at the bottom of your mold.
In the bowl of your stand mixer, beat the eggs with the sugar until light and pale in color.
Add the melted butter and beat again.
Stir in the buttermilk, puréed pumpkin and ginger.
In another bowl, combine the flours, baking powder and soda, and spices. Add a pinch of salt.
Add the dry ingredients to the wet ones and mix until just combined.
Pour the cake batter evenly over the apples and bake the cake for about 35 to 40 minutes, or until the blade of a sharp knife inserted in the middle comes out fairly dry.
Take the cake out of the oven and let cook before flipping on a plate. Remove the parchment paper and let completely cool. Enjoy plain or with yogurt, crème anglaise or whipped cream on the side.
Le coin français
Gâteau renversé aux pommes et au potimarron
Ingrédients :
2 grosses (ou 3 petites) pommes rouges, variété ancienne, évidées et coupées en tranches épaisses
15 g de beurre + pour le moule
1 càs de miel liquide
Jus de citron
100 g de sucre de canne blond
2 oeufs
100g de beurre, fondu
170 g de purée de potimarron*
80 ml de lait ribot
Pincée de sel
1 càc de bicarbonate de soude
2 càc de poudre à lever
60 g de farine de quinoa
80 g de farine de riz complet
30 g de farine de tapioca
30 g de farine de riz glutineux
1 càc de cannelle en poudre
1 càc de gingembre frais râpé
1/4 càc de muscade
*Pour la purée de potimarron, il suffit de faire cuire le légume nettoyé à la vapeur et enusite de le passer au presse-purée.
Etapes :
Préchauffez le four à 180 C. Beurrez un moule à manqué de 23 cm de diamètre et couvrez-le de papier sulfurisé; mettez de côté.
Dans une poêle, faites fondre le beurre sur feu moyen. Ajoutez les tranches de pommes avec le miel. Faites cuire en remuant de temps à autre pendant 3 minutes, ou jusqu'à ce que les pommes soient tendres. Arrosez d'un filet de jus de citron.
Arrangez les tranches de pomme au fond du moule.
Dans le bol de vote robot à pied, battez les oeufs avec le sucre jusqu'à blanchiment.
Ajoutez le beurre fondu et mélangez.
Ajoutez ensuite le lait ribot, la purée de potimarron et le gingembre.
Dans un autre bol, combinez les farines avec la poudre à lever, la bicarbonate de soude et les épices. Ajoutez une pincée de sel.
Ajoutez les ingrédients secs à l'appareil liquide.
Versez la pâte sur les pommes de façon uniforme et faites cuire le gâteau pendant environ 30 minutes.
Sortez le gâteau du four et laissez-le légèrement refroidir avant de le retourner sur assiette. Enlevez le papier sulfurisé et laissez la gâteau complètement refroidir. Servez avec du yaourt nature ou une crème anglaise ou de la crème fouettée.