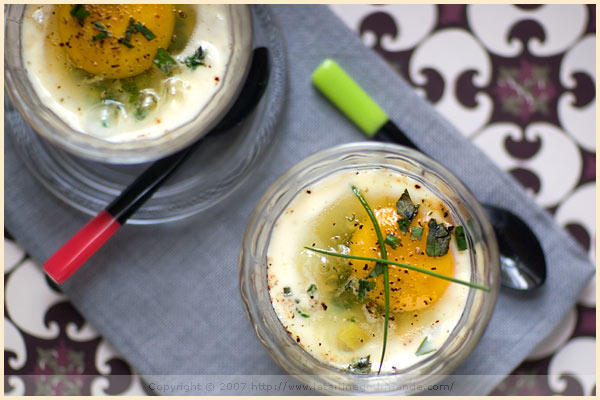 Oeufs en cocotte, au saumon, poireau et fines herbes
Some people hate runny eggs. I don't. I love them, especially when they are prepared simply as "oeufs à la coque". Perhaps because this takes me back to the time when, as a kid, my mum used to prepare soft boiled eggs. Like many children, my brother and I particularly loved the part when we could dip our mouillettes* into the eggs. Succulent!
*a mouillette [pronounced moo-YEAH-t] is a buttered small, long and slim stick of baguette bread, or any other type of bread, that is dipped into the egg; from the French verb "mouiller, se" which means to get wet.
"Oeufs à la coque ? We call them egg and soldiers in my family in Ireland," P. told me when, many years ago, I asked him whether he had eaten them before.
"In your family only or in Ireland everywhere?"
He looked back at me. P. is often confused between remembering the foods he learned to eat living in Ireland or the States.
"Je ne sais pas. Ask my mum."
"What about oeufs en cocotte?" I went on. "Do you have these in Ireland too?"
The look on his face showed that he was then puzzled by something. "Cocotte ? What is a cocotte?"
"An egg en cocotte is the cousin of the oeuf à la coque," I replied. At least in my own interpretation.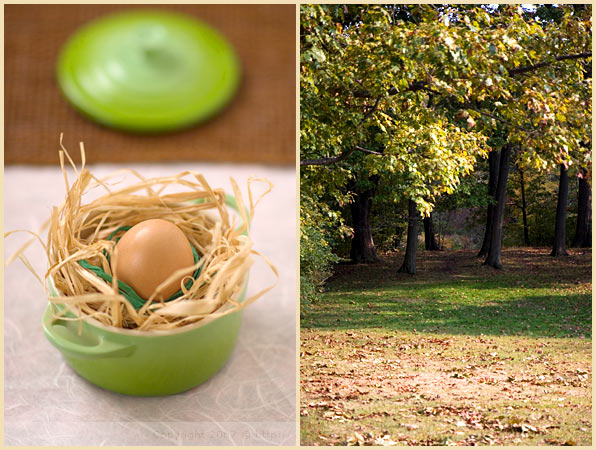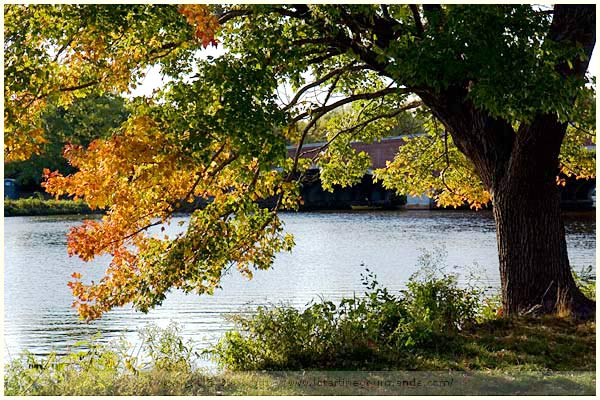 You probably know that in French, a cocotte is an oval or round casserole with a lid and two hand grips on each side used for stewing or boiling. The reason why we call this egg dish an "oeuf en cocotte" is because the eggs — gently broken in the cup — are cooked in a small cocotte; nowadays a glass or ceramic ramekin is more often used. But I still prefer to use glass because I like the idea to see the food.
You can pretty much put anything that you like in un oeuf en cocotte; the different ingredients added are then called l'appareil. Crème fraîche or crème liquide (heavy cream) is often used, as well as fresh herbs.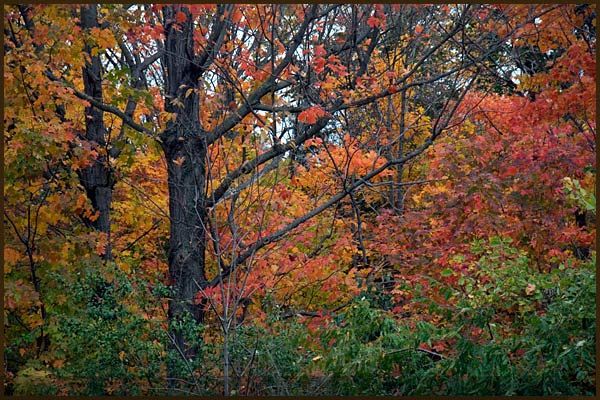 In my first oeufs en cocotte batch, I decided to add tarragon — because anything tarragon is always welcomed in my kitchen, remember? — chives, leek and smoked salmon. The second one included sautéed chanterelles, because it is the season, n'est-ce pas ?
Served as an appetizer, this dish is easy and quick to prepare, fifteen minutes total, not more. This will even give you plenty of time to take a walk to the park before your meal, just as I did when I tested the recipe one evening, last week.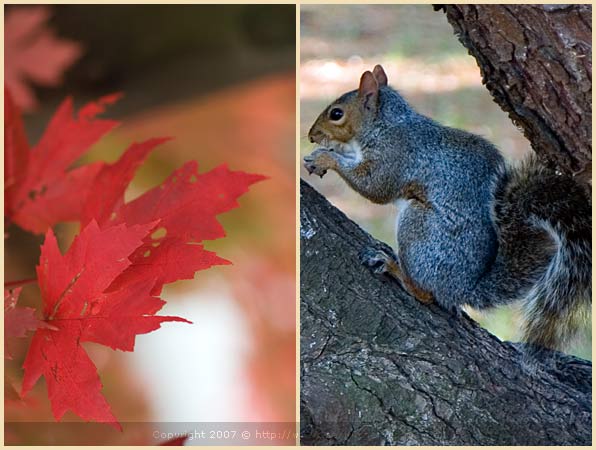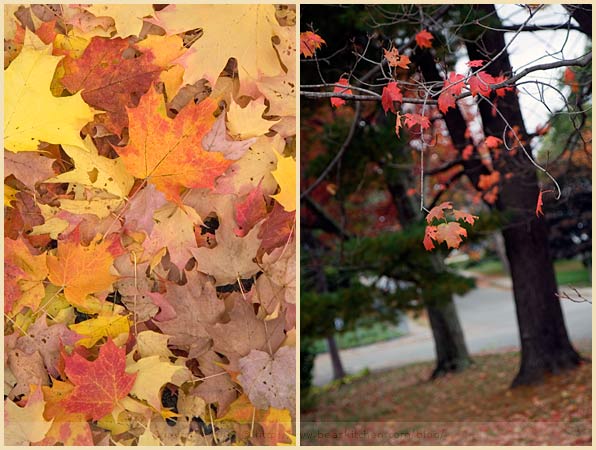 This time of year has to be one of my favorites in New England, when I am able to observe the change of colors in nature and trees. I have never seen anything like this anywhere else before. Antoine de Saint Exupéry wrote "Dessine-moi un mouton" in his marvelous famous novel, Le Petit Prince. I could change his words to "Dessine moi un arbre", to illustrate my fascination with trees. Aren't they quite something?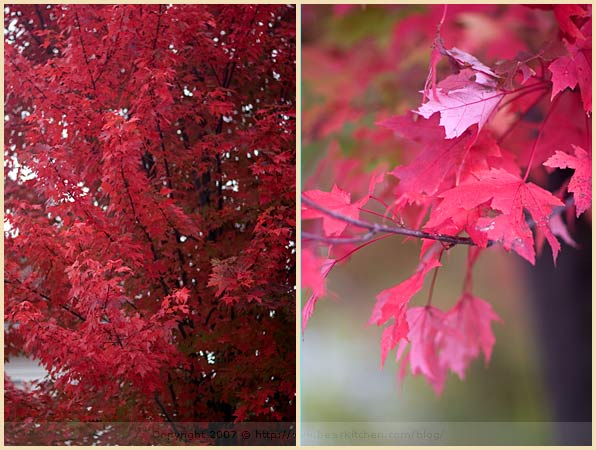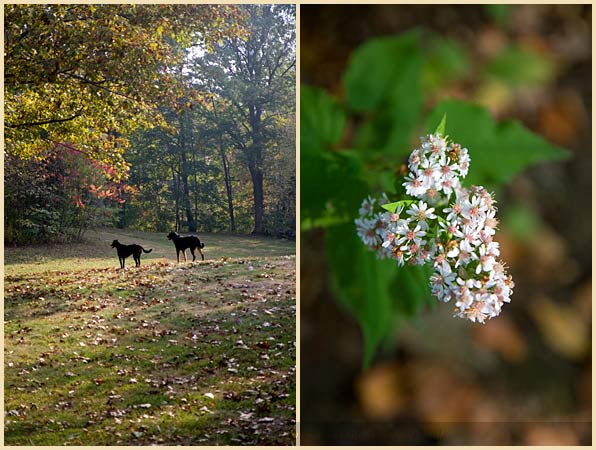 And oh, did I mention this before?
Renewing with my many years spent as a teacher of French as a second language, I was pleased to teach my first atelier cuisine/français (cooking/French workshop) at the French Library Alliance Française in Boston this past Friday. The theme? La cuisine réconfortante (Comfort food). This eggs en cocotte recipe was part of the menu.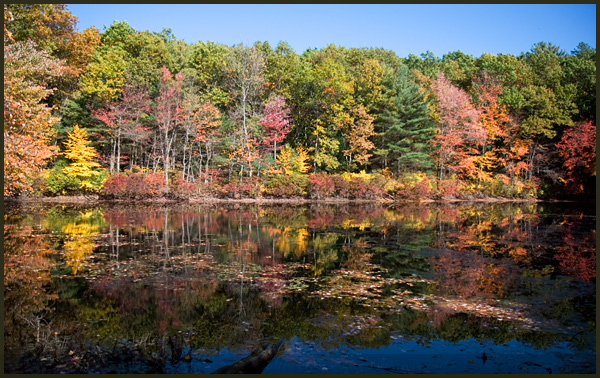 While my students — and I — exclusively spoke French (and they were good!), they also prepared a three course menu:
Oeufs en cocotte au saumon, poireau et herbes, et ses mouillettes
(Eggs en cocotte with salmon, leek and herbs, and its mouillettes)

Salade de mâche et roquette
(Mâche and Arugula Salad)

Gratin de céleri-rave et pommes de terre parfumé au thym
(Celeriac, Potato Gratin with Thyme)

Flognarde aux pommes
(Apple Flognarde)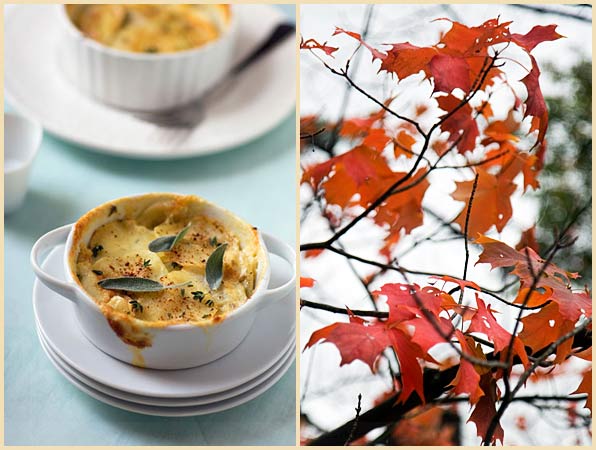 Celeriac, Potato Gratin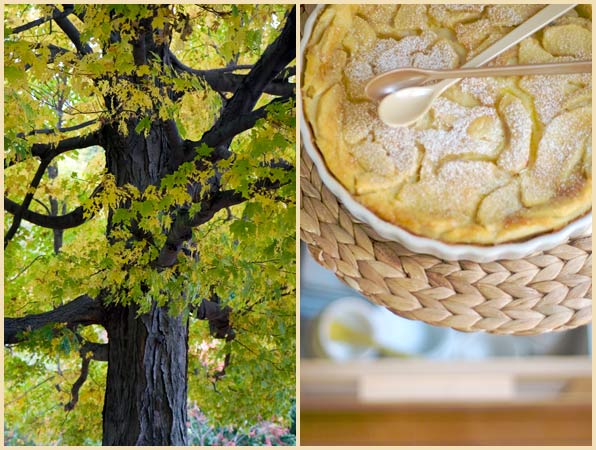 Flognarde aux pommes
And now that I am looking at it more closely, perhaps I should have entitled the class "La cuisine sur le thème du jaune" (Cooking in Yellow).
The next class is happening on November 13, with a theme around Verrines & Mignardises. Take a look if you are interested.
In the meantime, enjoy the eggs, and the beauty of fall, as long as it lasts! Yesterday, it was 75 F in Boston (23 C). Today, we will reach 80 F (27 C). C'est incroyable ce temps ! A bit scary actually!

The recipe of the apple flognarde will follow soon.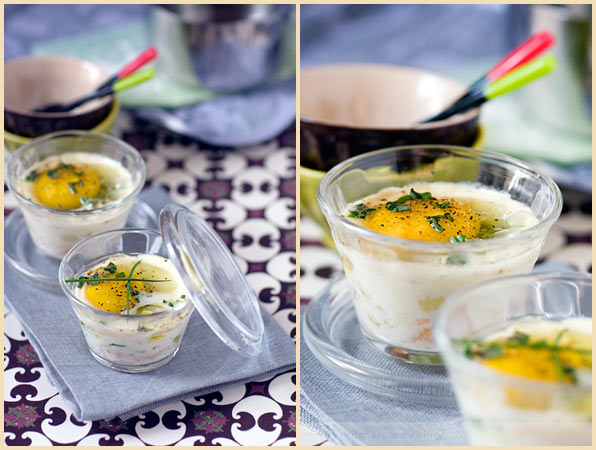 Oeufs en cocotte, au saumon, poireau et fines herbes
Eggs en cocotte with salmon, leek and its mouillettes
(For 4 people)
You need:
4 large fresh eggs
2 slices of smoked salmon
1 leek
3 Tbsp crème fraîche (or mascarpone)
Chives, chopped
Tarragon, chopped
Salt and pepper
Olive oil
Steps:
Slice the leek finely, white and pale green parts only.
In a non stick frying pan, heat 2 Tbsp olive oil. Cook the leek on medium to low heat for a few min so that it softens, but never gets brown. Season with salt and pepper; set aside.
Chop the herbs.
Dice the smoked salmon.
Take 4 ramekins and add 1/2 Tbsp of crème fraîche* to coat the bottom.
Add the salmon and some herbs.
Add the leek and more chopped herbs.
Break gently one egg per ramekin. Season with salt and pepper.
Add a little more herbs and creme on top of the egg white, leaving the yellow intact.
Place the ramekins in a pot filled with boiling water so that the water line reaches half of the height of the ramekins.
Cook for about 10 min, until the egg white is set as you like.
Serve with buttered mouillettes.
*You can also heat the cream slightly so that it is easier to spread.
Le coin français
Oeuf en cocotte au saumon et au poireau, avec ses mouillettes
(Pour 4 personnes)
Ingrédients :
4 gros oeufs bien frais
2 tranches de saumon fumé
1 poireau
3 càs de crème fraîche (ou mascarpone)*
Ciboulette fraîche, hachée
Estragon frais, haché
Sel et poivre
Huile d'olive
Étapes :
Émincez la partie blanche et vert pâle du poireau finement.
Dans une poêle anti-adhésive, faites chauffer 2 càs d'huile d'olive. Faites-y suer le poireau sur feu doux à moyeb pendant quelques minutes.
Hachez les herbes.
Détaillez le saumon en petits dés, ou petites lanières.
Prenez 4 ramequins et déposez une demie cuiller à soupe de crème pour recouvrir le fond.
Recouvrez de saumon, puis d'un peu de mélange d'herbes.
Ajoutez le poireau puis à nouveau un peu du mélange d'herbes hachées.
Cassez délicatement un oeuf dans chaque ramequin. Salez et poivrez.
Ajoutez encore un peu d'herbes, du sel et du poivre, et finissez par un peu de crème ajoutée sur le blanc d'oeuf, en évitant d'en mettre sur le jaune.
Placez les ramequins dans une casserole remplie d'eau à mi-hauteur.
Faites cuire dans ce bain-marie pendant 10 min environ, jusqu'à la texture du blanc d'oeuf souhaitée.
Servez avec des mouillettes de pain tartinées de beurre.
* Vous pouvez aussi chauffer un peu la crème pour qu'elle ait une consistance un peu plus liquide.
Technorati Tags: La Tartine Gourmande, Food Photography, Food Styling, eggs en cocotte, French dish, appetizer, oeufs en cocotte