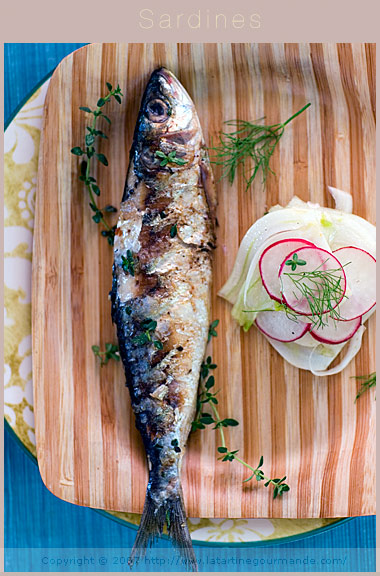 Grilled Sardines
With Marinated Fennel and Radish Salad
Bring me some good fish oil, B12 and D vitamins, will you?
I say, Sardines!
Although I cook and eat fish a lot and often, I realize that I rarely blog about it. This does not seem to be making a lot of sense to me.
I have always had this special tie to sardines. I really like sardines! Every time I visit my fish monger, my eyes are always in search of these precious little fish. "Do you have sardines today?" I hear myself ask so often that it now seems an old song to my fish guy. "I can special order some, if you like," he often replies, when failing to meet my desperate need.
Yes, I know he can. But don't you agree that there is so much more fun when you can spontaneously go home with a bag of fresh sardines, without having to wait?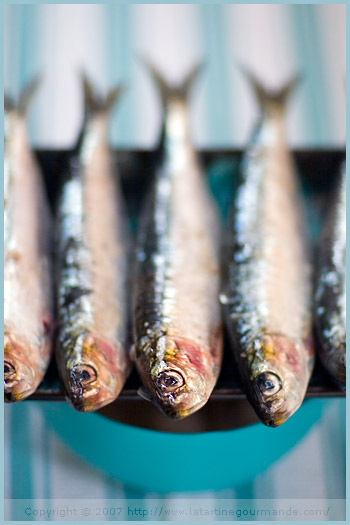 Sardines
When I was a kid, we use to BBQ sardines a lot, especially while we were away on vacation à la mer (by the seaside), like many French people during les grandes vacances (summer vacation). We particularly loved to explore the West coast of France with its large beaches and tides, from Brittany to Vendée and l'île d'Oléron, where it was less hot and crowded. But as kids, did we really care? The point for us was voir la mer, ramasser des coquillages et jouer avec les poissons (see the sea, collect shells and play with fish). There, the fish was so good, and fresh of course! A treat was to walk to the market every day, and twice a week, bring some fresh sardines to prepare une friture de sardines**, or grill them. The sardines we found were tiny, much smaller than the ones I find here. Not sure what the reasons are, but I surely should try to find out (making a note to myself). And because they were so small, we could swallow down the whole thing, without having to pay close attention to les arêtes (fish bones). The best memory.
With the sardines I find here however, no such luck. Even if trying to, it is just impossible to eat the bones. They are too big. But this does not stop me whatsoever. On the grill, sardines are simple to make and delicious.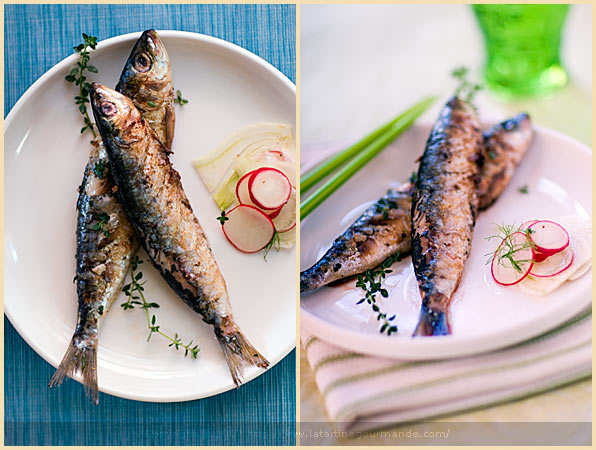 There is nothing difficult in this recipe. It is really how you prefer them. Enjoy the BBQ as long as you can, with sardines. This is one of the best ways to keep the heat from cooking outside, non ?
**Friture: deep-fried, a word close to what is commonly known as fritter. If you know the word "frites" (French fries), you understand "friture" then. Same root.
Sardines on the Gril
(For 4 people)
You need:
8 sardines (medium, more if small)
Fresh thyme
Fresh savory
4 Tbsp olive oil
2 garlic cloves
Salt and pepper
Steps:
Grate the garlic cloves with a microplane to have it very fine.
In a bowl, mix the garlic with the oil, salt and pepper, and the herbs finely chopped. Coat the sardines with this sauce and place in the fridge, covered, for 1 hour.
When ready to eat, heat a grill.
Cook the sardines on each side for 3 to 4 min only, according to size. Brush with the sauce while cooking. Adjust the seasoning.
Serve the grilled sardines with a marinated fennel and radish salad — with olive oil, salt and pepper, and a squeeze of lemon juice — and plain Jasmine rice.
Le coin français
Sardines grillées au thym
(Pour 4 personnes)
Ingrédients :
8 sardines (moyennes, plus si petites)
Thym frais
Sarriette fraîche
4 càs d'huile d'olive
2 gousses d'ail
Sel et poivre
Étapes :
Rapez les gousses d'ail très finement avec une râpe microplane, si vous en avez une (sinon hachez très finement).
Dans un bol, mélangez l'ail avec l'huile, du sel et du poivre et les herbes hachées finement. Enrobez les sardines de cette sauce et placez au frigo pendant 1 heure, à couvert.
Une fois prêts à servir, faites chauffer votre gril.
Cuisez les sardines de chaque côté pendant 3 à 4 min seulement, selon la taille des poissons. Badigeonnez-les de sauce pendant la cuisson. Rectifiez l'assaisonnement.
Servez les sardines grillées avec une salade de fenouil et radis roses marinée — huile d'olive, sel et poivre, et un peu de jus de citron — et un bol de riz jasmin Thaïlandais.
Technorati Tags: Food Styling, La Tartine Gourmande, Food Photography, Whole Fish, Grilled Sardines