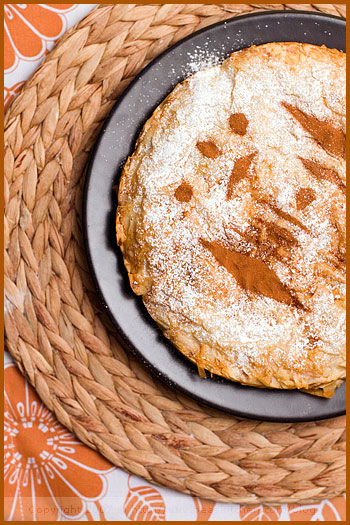 Chicken Pastilla
I have always found difficult to give an answer to the often asked question "what is your favorite cuisine?" Because there is not one. There are just too many cuisines that I like, that transport me to exotic places, areas that I do not know that well. And so yes, just like Italian, Vietnamese, Japanese or Thai, I have a passion for Moroccan food. Earthy, fragrant, comforting and delicate at the same time, these are all qualifiers that come to my mind when I think about this colorful North-African cuisine. With no surprise then, the other day, Loukoum had me think. Did I really have four Moroccan cookbooks practically untouched? Well, almost. I have made preserved lemons, numerous tajines with fish, meat — lamb, chicken, veal — and vegetables, quite often, so much so that there was even a time when P. literally told me "J'en ai marre des tajines (I am sick of tajines). He really said so, if you can actually believe it. How can one get tired of tajines, I ask? Impossible ! But, of all the various Moroccan dishes I prepared over the years, I had never made a pastilla before, until last week. Thanks to Loukoum who made a pastilla on the day of her birthday, I got obsessed with making one myself. "I so much want to taste one", I kept thinking. I recalled the last one eaten many years ago at La Boussole, this 6th arrondissement bistrot in Paris where we often go when we visit the city. I could not believe it had been so long! I located my Moroccan cookbooks, studied Loukoum's recipe and decided to make a hybrid of hers, one recipe from Moroccan Café and my own touch. My initial plan was actually to make a pigeon pastilla, but I was really unsure of my success to find pigeons that easily, and to eat them furthermore. When I told P. that I thought of pigeons, he looked up, smiled, and said: "coo coo coo". Right! I mentally scanned ideas and thought of quails but when I called my local butcher to ask him whether he had any, he replied that he only had two left. I did not want to wait until the following day, so instead of pigeons, I decided to use chicken. It was best to start things progressively anyway.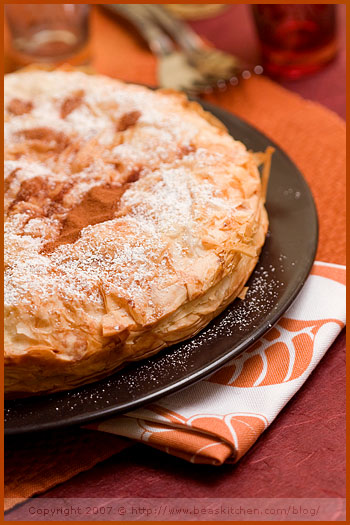 Pastilla is the meeting of sweet and savory by essence, a North-African pie-like dish traditionally made of squab. It requires many spices, cinnamon, saffron, nutmeg, ginger for example, nuts — almonds — dried fruit and meat. The mixed ingredients are then imprisoned in various layers of flaky dough, traditionally brick but since it is rather hard to find, phyllo dough is often used instead. It is fair to add that it requires some attention and time, especially when assembling the dish, but the result is really worth the time and efforts put.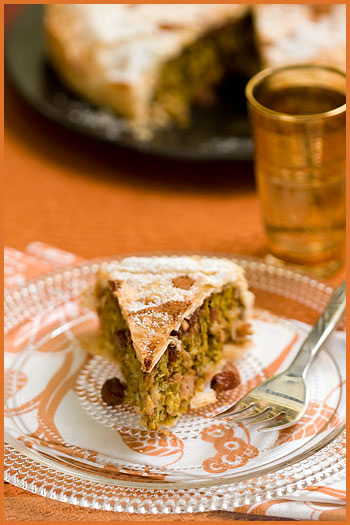 But I had plenty of time in front of me as it was snowing heavily outside and I was pretty much stuck at home. In fact, this dish was going to be the perfect meal for the weather and the day. I was all excited.
Despite the pretty long list of ingredients and the fact that time is a criteria to consider when making a pastilla, there is really nothing difficult about it. For those a little intimidated by working with phyllo dough, this could perhaps be the only more "challenging" part, although a little bit of care is all that is required. Phyllo dough is fragile and dries out quickly. Hence, you need to be able to work rapidly to make sure that the dough does not dry out before you are done. In a pastilla, I particularly like the complex combination of savory spices subtly contrasted to sweeter flavors such as cinnamon, raisins and confectioner's sugar. It is a plat complet (one dish with everything) and is plenty for dinner accompanied with a salad, or why not, served as a small appetizer. We really loved it. The question as to why I waited for so long to make one remains a mystery, but there is one thing that I however know, that has not price: reading about what other food bloggers prepare is a great way to challenge myself to try new things, or dishes that I have not made in a while. Very soon, I know that I will probably prepare my next pastilla with pigeons or squab. Exciting! I have never done it and cannot wait to try.
I 'd better start looking for these pigeons! There is no shortage of them around here!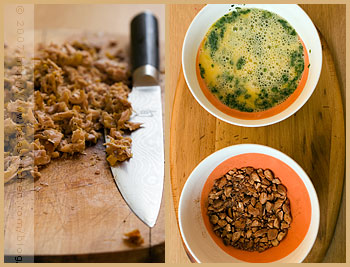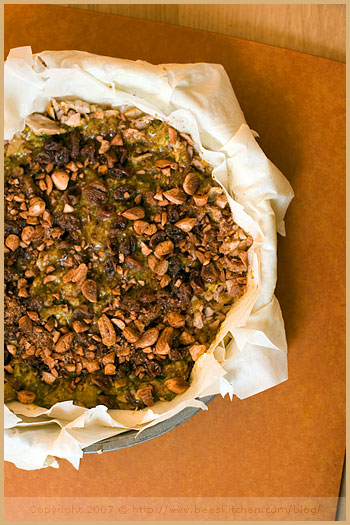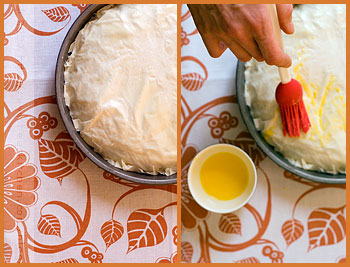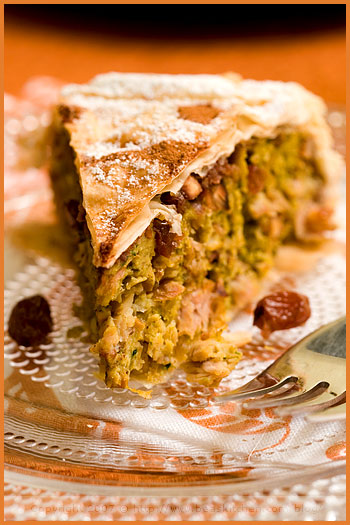 Chicken Pastilla
(For 6 people, round mold 9.5 x 1.5″)
You need:
6 chicken drumsticks
2 yellow onions
2 Tbsp butter + extra, melted for brushing
3 Tbsp olive oil
1 saffron dose
1 inch fresh ginger root
1 tsp ground ginger
1/2 tsp ground cinnamon
1/2 tsp paprika
Dash of nutmeg
5 eggs + 1 egg yolk
4 Tbsp fresh coriander, chopped
2 Tbsp fresh parsley, chopped
1/3 cup water
2 oz raisins, soaked in water
About 10 Phyllo dough sheets
2 oz blanched almonds
Salt and pepper
Steps:
Soak the raisins in warm water.
Heat 2 Tbsp olive oil and 1 Tbsp butter in a Dutch-style casserole pot. Braise the chicken drumsticks on all sides for a few min, then remove.
Add 2 more Tbsp olive oil and cook the onions with the spices — ginger, cinnamon, paprika, nutmeg, saffron and ginger root — for a few min, until they are fragrant.
Return the chicken drumsticks to the pot, add 1/3 cup water, 2 Tbsp chopped coriander, 1 Tbsp chopped parsley, season with salt and pepper, cover and simmer for 1 hour.
Heat 1 Tbsp olive oil in a frying pan and saute the almonds. Chop and mix with 1.5 Tbsp sugar and 1 tsp cinnamon. Keep.
Remove the meat from the bones and chop coarsely.
Reduce the chicken sauce by 2/3.
Beat the eggs in a bowl and add 1 Tbsp chopped coriander. Add the eggs to the casserole and stir constantly on low heat until you have a creamy consistency. Remove.
Preheat your oven at 400 F.
Take a round cake mold and brush it with melted butter.
Line it with 2 buttered phyllo sheets, on top of each other. Add two more buttered phyllo circles at the bottom.
Top with half of the meat, half of the nuts and raisins, half of the sauce.
Add 2 more buttered phyllo sheets on top and start again with the meat, sauce, raisins and nuts.
Finish with 4 buttered phyllo sheets and tuck them to seal properly.
Brush with an egg yolk mixed with a little water.
Place in the oven for 30 mns, or until golden. Remove, sprinkle with confectioner's sugar and cinnamon, and serve with a large green salad.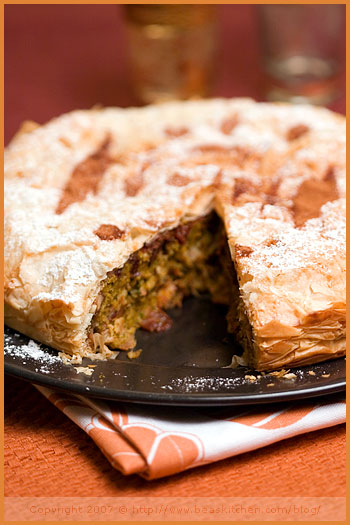 Le coin français
Pastilla de poulet
(Pour 6 personnes, moule de 24 x 4 cm)
Ingrédients :
6 pilons de poulet
2 oignons jaunes
30 g de beurre + extra, fondu pour la pâte filo
3 càs d'huile d'olive
1 dose de safran
2,5 cm de racine de gingembre
1 càc de gingembre en poudre
1/2 càc de cannelle moulue
1/2 càc de paprika
Pointe de muscade
5 oeufs + 1 jaune d'oeuf
4 càs de coriandre fraiche, hachée
2 càs de persil frais, haché
80 ml d'eau
60 g de raisins secs, à faire tremper dans de l'eau tiède
10 feuilles de filo
60 g d'amandes entières mondées
Sel et poivre
Étapes :
Faites tremper les raisins secs dans de l'eau tiàde.
Faites chauffer 2 càs d'huile d'olive et 30 g de beurre dans une cocotte, type Le Creuset. Faites dorer les pilons de poulet sur toutes le faces pendant quelques mns, puis retirez-les.
Ajoutez 2 càs d'huile d'olive et faites revenir les oignons et les épices (gingembre, cannelle, paprika, muscade, safran et racine gingembre) pendant quelques min, jusqu'à ce qu'elles se développent en parfum.
Remettez les pilons de poulet dans la cocotte, ajoutez l'eau, 2 càs de coriandre hachée, 1 càs de persil haché, et assaisonnez de sel et de poivre. Couvrez et faites mijoter à feu doux pendant 1 heure.
Faites chauffer 1 càs d'huile d'olive dans une poêle et faites revenir les amandes pendant 2 à 3 mns. Hachez-les grossièrement et ajoutez 1,5 càs de sucre et 1 càc de cannelle en poudre. Réservez.
Retirez la viande des os et hachez-les grossièrement.
Faites réduire la sauce de 2/3.
Battez les oeufs en omelette dans un bol et ajoutez 1 càs de coriandre hachée. Ajoutez les oeufs à la sauce et mélangez constamment sur feu doux, jusqu'è l'obtention d'une consistance crémeuse. Retirez du feu.
Préchauffez votre four à 200 C.
Prenez un moule à tarte rond et badigeonnez-le de beurre fondu.
Recouvrez-le de 2 feuilles de filo badigeonnées de beurre fondu. Ajoutez deux cercles de filo beurrés recouvrant le fond.
Versez la moitié de la viande, des raisins et des noix, et de la sauce.
Ajoutez 2 nouvelles feuilles de filo beurrées et continuez avec le reste de viande, noix, raisins et sauce.
Terminez avec 4 feuilles de filo beurrées et scellez la pastilla en repliant les bouts de filo qui dépassent.
Badigeonnez d'un jaune d'oeuf battu avec un peu d'eau.
Mettez au four pendant 30 min, ou jusqu'à ce que le dessus soit doré. Retirez du four, saupoudrez de sucre glace et de cannelle, et servez avec une belle salade verte.