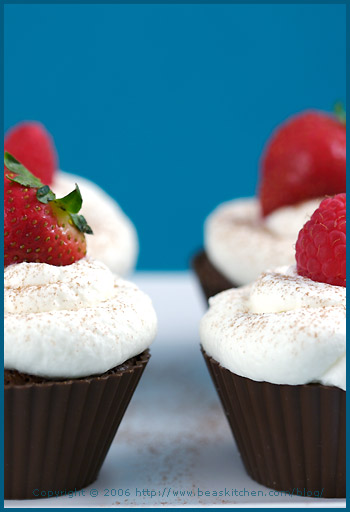 My friend Rekha came for dinner a while ago, telling me she had a surprise for me. Une surprise ? Chouette, j'adore les surprises ! She walked into the house carrying a nicely wrapped box. Mmmm, ça sent le dessert tout cela ! (I can smell dessert in this!)
"J'ai une surprise pour toi. J'ai ramené le dessert. " (I have a surprise for you. I brought dessert.)
I had made dessert but was very pleased to hear we would get a second one. Two is always better than one. "Fais attention ," (Be careful) she told me as I carefully opened the box.
Unwrap, quick quick. Ah voilà !
Cupcakes!
Rekha tasted the first cupcakes I made ever, at a dinner party I hosted in last May. She found funny-ahah to see that I was only discovering cupcakes. Her goal with this gift, she told me, was to initiate me the Frenchie to real American cupcakes, with cream and icing, so that I understand what cupcakes are really all about. Now, I have lived in the US for about 8 years and I can confess that I am as new to cupcakes as a chick flying for the first time. Surely, food blogging has something to do with this discovery. Where was I during all those years? Not sure. I simply had never noticed cupcakes before. As P. likes to point out to me at times, I live in planète Béa, whatever that means.
Although R. mentioned she liked my cupcakes (isn't she a good friend?), she added that mine lacked the real stuff. But what did she mean? What was this truc exactly?
After I tasted one, I knew right away. The icing! The rich cream on top. No comparison possible with the version I had made with a basic chantilly on top (whipped cream). In the box, we found four chocolate and vanilla cupcakes, rich in flavor yet not overwhelming as I initially thought they would be just by looking at them. I actually liked them despite my initial prejudice.
Cupcakes
Do you know what the word for cupcake is in French?
Petit gâteau
And you know what? I think this is such a bad translation. It is truly lacking the cultural flavor that the word cupcake has. In fact, un petit gâteau (literally a small cake in French) could be so many other cakes than a cupcake. It would actually simply mean "a cake that is small". When I first looked at the translation, I was disagreeing so much with it that I thought I would write a letter to the Académie française to tell them that the translation was missing the point! They did not get it! There should be a better way to call those cakes in French. Why not keep the English word as we do for so many other English words. Take un sandwich, le parking, une start-up. Yes, I know, this is not matter to please the académiciens at all, but it is so much more meaningful!
I now understand that I cannot live in the US and know nothing about cupcakes. I need to be able to eat and make them. Not long ago, P. asked me what was the deal with my recent fascination with cupcakes. Il ne pige pas !(He does not get it!) It is foreign to me, therefore I like it. Plus, I find them cute.
There Is Always an Excuse for Chocolate
For my second attempt at making cupcakes, I have not yet gone into the depth of trying funky flavors and icing. I am taking it slowly. I have seen a lot of recipes using cream cheese for the icing, but to be honest, I am not too familiar with using or eating this product. Although I have nothing agaisnt it, I just feel stuck and refrain from using it. Je suis bloquée. So instead, I decided to make cupcakes with a light lavender-flavored chantilly on top. The shortcut for summer as it makes it a sweet much more attractive to eat. Besides, what is easier than whipping cream into chantilly?
Chocolate Cupcakes with Lavender Chantilly
For the lavender syrup and the whipped cream
You need:
2/3 cup water
2 oz de sugar
1 Tbsp culinary lavender
1 cup heavy cream
Steps:
Mix the sugar with the water and bring to a boil. Remove from the heat. Add the lavender seeds and let infuse for 30 mns. Filter and let cool down.
Whip the cold cream in chantilly and add 2 Tbsp of the syrup to it.
For the cupcakes
(For 6, regular size)
You need:
2 oz dark chocolate (70% cocoa)
2 large eggs
6 Tbsp butter
1/2 cup sugar
1/4 cup flour
1 Tbsp cocoa powder, unsweetened
1/4 tsp baking powder
A pinch of salt
Steps:
Preheat your oven at 350 F.
Chop the chocolate coarsely.
Cut the butter in small pieces. Place them together in a bowl and melt using the bain-marie method.
Transfer the preparation in the bowl of your mixer. Add the sugar and mix gently to dissolve the sugar. Let rest for a few mns.
Continue to mix for about 5 mns.
Add one egg at a time and mix until well blended.
Sift the flour, cocoa powder and baking powder separately, and add them to the preparation with the salt.
Mix well, but not too much.
Take cupcake molds (paper or silicone) and fill them 3/4 to the top. Cook for about 25 minutes (the cupcakes are cooked when the blade of a sharp knife comes out clean).
Remove from the oven and let cool down.
Decorate avec the lavender chantilly (use a decoration bag), and fresh strawberries or raspberries.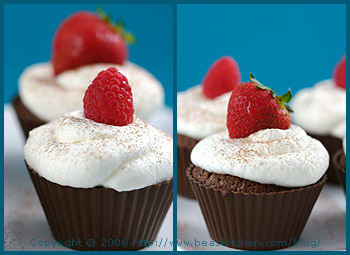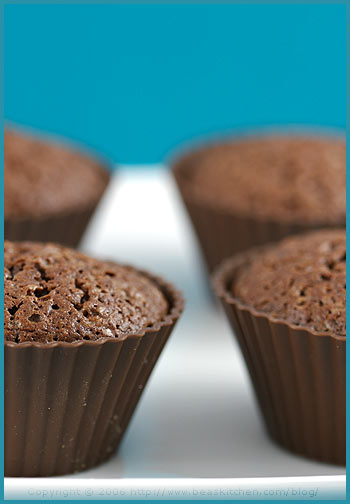 Le coin français
Cupcakes au chocolat, chantilly à la lavande
Sirop à la lavande et chantilly

Ingrédients:
150 ml d'eau
50 g de sucre
1 càs de lavande
240 ml de crème liquide
Étapes :
Mélangez le sucre avec l'eau sur feu doux puis amenez à ébullition. Enlevez du feu. Ajoutez la lavande et laissez infuser pendant 30 mns. Filtrez et laissez refroidir.
Battez la crème froide en chantilly et mélangez-la avec 2 càs de sirop.
Pour les cupcakes
(Pour 6 de taille normale)
Ingrédients :
60 g de chocolat noir à 70%
2 gros oeufs
170 g de beurre
100 g de sucre fin
60 g de farine
1 càs de poudre de cacao non sucré
1/4 càc de levure chimique
Une pincée de sel

Étapes :
Préchauffez votre four à 180 C.
Concassez le chocolat grossièrement.
Coupez le beurre en morceaux. Placez-le dans un bol avec le chocolat, et faites fondre au bain-marie.
Transférez la préparation dans le bol de votre robot. Ajoutez le sucre et mélangez. Laissez reposer pendant quelques minutes pour que le sucre soit absorbé.
Continuez à mélanger dans le robot pendant 5 mns.
Ajoutez un oeuf après l'autre. Mixez bien pour chaque oeuf avant d'ajouter le suivant.
Tamisez la farine, le cacao en poudre et la levure séparément. Ajoutez-les à la préparation avec le sel.
Mélangez bien, mais pas de trop.
Prenez de petits moules à gâteau individuels (en papier ou silicone) et remplissez-les aux 3/4. Cuisez au four pendant environ 25 minutes (les cupcakes sont cuits lorsque la lame d'un couteau en ressort sèche).
Retirez-les du four et laissez les refroidir.
Décorez avec la chantilly à la lavande (utilisez une poche à douille), et des fraises ou des framboises fraîches.