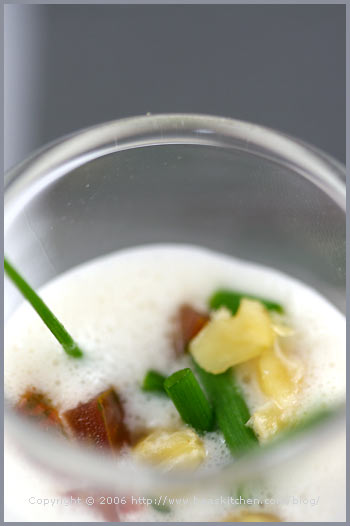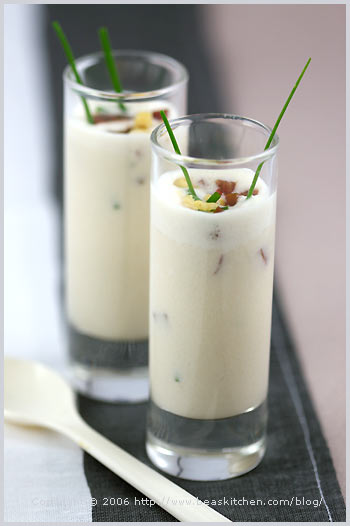 I know what you are going to say. This soup cannot be called a gazpacho if it is not red. Well, aren't we people of habits? We hear the word Gazpacho and we associate it with red, right away. Mettons le rouge au placard (Let's put red in the closet) et voyons la vie en rose blanc ! (let's look at life in pink white)
This is how it all happened.
Of the many restaurants I have been to in Boston, there is one that I have amazing memories of. Not because I know the chef Gabriel, although this surely helps, especially when you have dinner in his restaurant with his girlfriend who happens to be herself an amazing known chef in the US. Yes, she was voted America's Best New Chefs 2000 in Food and Wine magazine. Pas mal, non ? The restaurant is called Spire, and is located at the Nine Zero Hotel in Boston.
But Gabriel does not work there anymore (in case you wanted to rush to the place). However, on his last night at the restaurant, we were lucky to have booked a table with Amanda Lydon, his girlfriend, and some of our best friends. And mince alors, we were spoiled! We chose a tasting menu (menu dégustation), and food just kept coming and coming our way.
Dinner included about 8 courses or so (I stopped counting at some point), with wine (and I even forget how many glasses there were on the table). And it was simply amazingly good food. I could decide to tell you all about the different courses we had, but it would take me days, and I think you might just give up before the end of my story. So instead, I will just focus on one mise-en-bouche we had.
Intriguing.
Gaspacho aux amandes — Almond Gazpacho
With a rich creamy texture, white in color, a little tart, but soft at the same time. I was imagining milk, cream, or a similar ingredient. In my mind, I really thought "dairy". "Nope," Gabriel replied. "Neither milk nor cream. The soup is a white gazpacho made with bread and almonds." "Vraiment ?" "Yes, really!" That was just enough to tickle my curiosity and make me want to make it.
But chefs are busy people, and to be able to get the details of a recipe from them, right there? Forget about it! Impensable ! (unthinkable) The good surprise came a few weeks later, when I saw an article in the food section of the Boston Globe that was featuring Gabriel's recipe. Bingo! I had it!
I have had the recipe for quite a while now and had almost forgotten about it, until last week when I attempted to organize my cookbook bookcase. Et dire que je croyais l'avoir perdue ! (I even thought I had lost it!) I read quickly through it and decided that the time was finally right to try my hand at this intriguing gazpacho.
Not difficult to make, by any means. Successful in the outcome. Would need to be served in small portions as a mise en bouche. I had to adjust a few things, however, including only adding half of the water suggested in the recipe. I wondered whether this was due to a typo in the listed ingredients or simply because of the type of bread I used. I will only know when I try it again, next time. Before then, I would simply suggest that you add the water gradually and check the consistency as you go. The soup should not be nor too thick nor too liquidy. Note that I also added the vinegar gradually and suggest you do the same. It all depends if you like when a dish is really tart or not. I love vinegar so I used it all. Use your own assessment. You are the best judge.
Almond Gazpacho
You need:
(For 4 to 6 people)
For the almond gazpacho:
1 cup whole blanched and peeled almonds
2 cups stale white bread, cut in cubes, without crust
6 Tbsp olive oil
2 cups very cold water (my adjustment)
2 large garlic cloves
1.5 tsp Kosher salt
4 Tbsp Sherry vinegar
For the garnish:
A few walnuts
Chives
Black cherry tomatoes, if you can find some (use red otherwise)
I changed the garnish suggestions from the original recipe to what is above.
Steps:
In a bowl, combine the bread cubes with enough water to cover it. Set aside.
In a food processor, combine the almonds, garlic and salt. Mix until it is smooth.
Squeeze the excess water out of the bread cubes and add the bread to the preparation, in the food processor.
Mix well until it forms a paste. While the food processor is on, add the oil in a thin, steady stream.
Then add the vinegar and the water. Pulse until the preparation is smooth.
For the garnish, dry toast your walnuts in a frying pan.
Cut the tomatoes in tiny cubes.
Chop the chives thinly.
Place a ladleful of soup in bowls or small shot glasses, and add some garnish with a dash of olive oil.
Note: To blanch almonds, simply boil them for a few mns, then press gently on them. The skin falls on its own.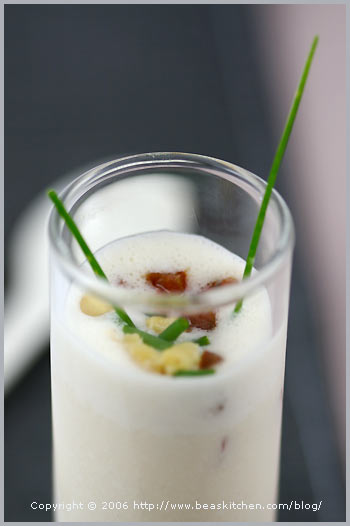 Le coin français
Gaspacho aux amandes

(Pour 4 à 6 personnes)
Ingrédients :
125 g d'amandes entières, blanchies et pelées
150 g de pain rassis, coupé en cubes, sans croûte
50 ml d'huile d'olive
1/2 l d'eau très froide (ma suggestion)
2 grosses gousses d'ail
1,5 càc de sel Cacher
50 ml de vinaigre de Xérès
Pour la garniture :
Quelques noix
Brins de ciboulette
Quelques tomates cerises noires, si vous en trouvez (utilisez des rouges sinon)
J'ai changé la garniture par rapport à la recette d'origine à ce qui est suggéré ci-dessus.
Étapes :
Mettez les cubes de pain dans un grand bol et versez de l'eau pour couvrir le pain. Mettez de côté.
Dans un robot, mélangez les amandes, les gousses d'ail et le sel. Réduisez en purée jusqu'à l'obtention d'une consistance lisse.
Pressez le pain entre vos mains pour enlever l'excès d'eau. Mettez-le dans le robot.
Mixez pour obtenir une pâte. Tandis que le robot est en marche, ajoutez l'huilesous forme de petit filet constant.
Puis, ajoutez le vinaigre et l'eau. Pulser pour obtenir une préparation lisse.
Pour la garniture, faites dorer vos noix à sec, dans une poêle.
Coupez vos tomates en petits dés.
Hachez la ciboulette finement.
Versez une louche de gaspacho dans des bols ou des petits verres, et ajoutez la garniture avec un soupçon d'huile d'olive.
Remarque : Pour blanchir des amandes, ébouillantez-les pendant quelques minutes et pressez-les entre vos doigts. La peau "tombe" toute seule.