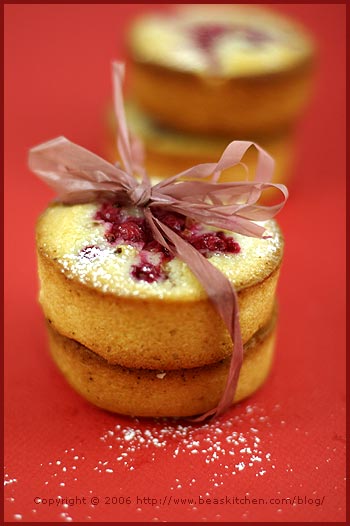 Red Currant Mini Cakes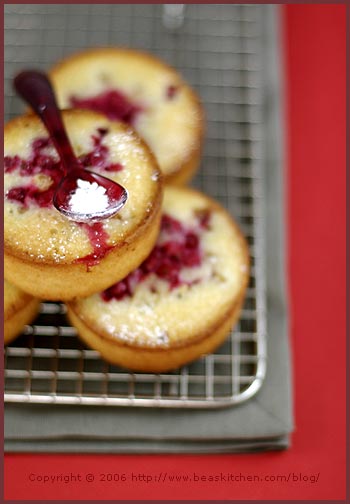 A lot of Red on my blog these days….
With the peak of the berry season, I know that some of you, the lucky ones, can pick fresh berries from the bushes, and you have so many that you just do not know quoi faire avec tous ces fruits ! (what to do with all of this fruit). Lucky that you are! I only have the market, which is already pas mal ! (not bad)
I had promised a real feast of red berries of all kinds. More red and white currants on the way.
Vive les groseilles !
These little cakes remind me a lot of the preparation of financiers, to tell the truth.
Very simple to make. Only 20 mns cooking time, maximum. Serve plain, or with a fruit coulis, or plain yogurt. Comme vous voulez ! (As you wish!) Do not forget the cup of coffee or tea. I can imagine those with a nice sweet tea, as a matter of fact, to cool us down.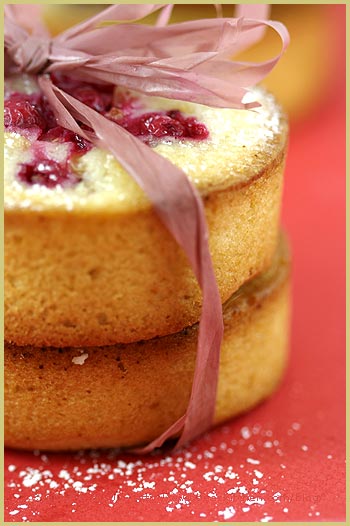 Red currant mini cakes
(For 4 cakes)
You need:
5/6 cup confectioner's sugar, sifted
1/2 cup almond powder
3/8 cup flour, sifted
White and Red currants
3 egg whites
1/4 tsp baking powder
2 oz butter

Steps:
Preheat your oven at 350 F.
Melt the butter in a pot.
Sift the flour and sugar separately.
Mix all the dry ingredients in a bowl: flour, almond powder, sugar and baking powder.
Add the white eggs (lightly beaten with a fork), and mix.
Add the melted butter.
Grease muffin pans and divide the dough between the 4 molds.
Place the washed currants on top.
Place your molds in the oven, for 15 to 20 mns.
Remove from the oven and let cool down for a few mns before unmolding on a cooling rack.
Eat!
Le coin français
Petits gâteaux aux groseilles
(Pour 4 gâteaux)
Ingrédients :
80 g de sucre glace, tamisé
60 g de poudre d'amandes
50 g de farine, tamisée
Groseilles rouges et blanches
3 blancs d'oeuf
1/4 de càc de levure chimique
60 g de beurre

Étapes :
Préchauffez votre four à 180 C.
Faites fondre le beurre dans une casserole.
Tamisez le sucre et la farine séparement.
Mélangez les ingrédients secs dans un bol, farine, poudre d'amandes, sucre et levure.
Ajoutez les blancs d'oeuf légèrement battus à la fourchette, et mélangez.
Ajoutez ensuite le beurre.
Graissez des moules à muffin et répartissez la pâte entre les 4 muffins.
Placez les groseilles lavées dessus.
Mettez au four pendant 15 à 20 mns.
Sortez et laissez refroidir quelques minutes avant de démouler sur une grille.
Dégustez.