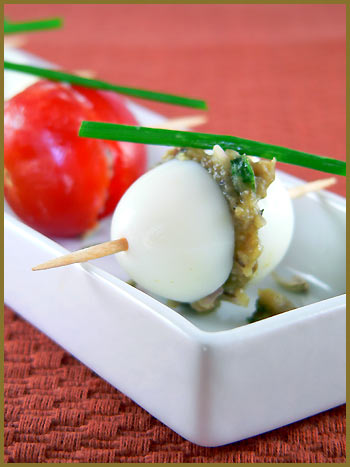 We need a short break from chocolate, do you agree? I actually have two more recipes waiting in line, including my elected favorite Molten chocolate cake recipe. I also hope you liked yesterday's adventure. Anne's ideas are truly wonderful and I suggest that you go back to check her cooking experiments. Worth the trip to Paris and to her station!
So when there is no chocolate, why not having a party? Do you like the idea of summers spent outside eating delicious finger foods? Not sure whether you usually test your recipes before serving them to the big crowd, but I usually do. As P. usually points out :ah oui, tu t'entraînes (you are rehearsing!) Of course I am, just like doing the OG. I prefer to minimize the possible catastrophies or last minute stress. Don't we say that we learn from previous experiences, and since I am soon to enter the middle point of the last quarter of my 30s (do your maths), I have learned from catastrophies.

A Rowing Boat with Red and White Bodies
I like boats and the ocean. And while I am at it, I also like the idea of a large rowing boat where team members are all participating to push that boat further and further. Don't you think that my dish looks like a boat with rowers? I might have way too much imagination. But I love quail eggs, tiny little cute coloured eggs that are just eaten in less than 1 second. This is the essential test, eaten in a mouthful? Can officially be declared amuse-bouches, finger food! The perfect friend to have for parties, and yes I love parties, with good food.
No need to say more, I will let you enjoy the boat ride with me.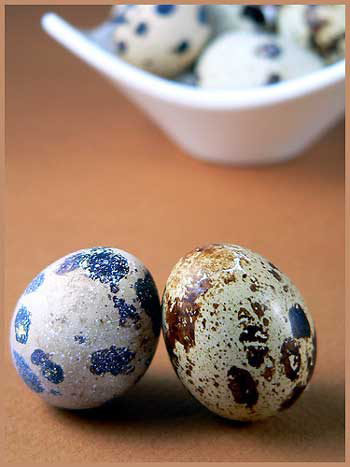 Cashews and Eggplant Purée in Quail Eggs
(for 6 people, 3 eggs per person)
You need:
2 eggplants
2 twigs of fresh thyme
7 tbsp olive oil
2 garlic cloves
1 shallot
10 basil leaves
Juice of 1/2 lemon
10 cashews
Salt and pepper
18 quail eggs
2 tbsp wine vinegar
Steps:
Preheat your oven at 350 F (180 C).
Wash the eggplants and make lengthwise slits in 3 places.
Slice the garlic cloves and place them in the slits.
Put on a piece of foil paper.
Add the thyme and a dash of olive oil.
Close the foil and place in the oven
Cook for 1 h 30.
In the meantime, place all other ingredients in a food processor bowl, minus the cashews, and mix well.
When the eggplants are cooked, take them out and scoop the flesh out.
Mix with the other preparation.
Then add the crushed cashews.
Cook the egg quails in boiling water with vinegar for 3 ms.
Remove and cool down under cold water to stop the cooking process.
Shell them and reserve.
Cut them in halves and place some of the purée in the middle.
Seal with a toothpick.
Serve sprinkled with fleur de sel.

Serve cold or warm. Fennel seeds and fleur de sel for decoration

Recipe from Tentations (Philippe Continici)