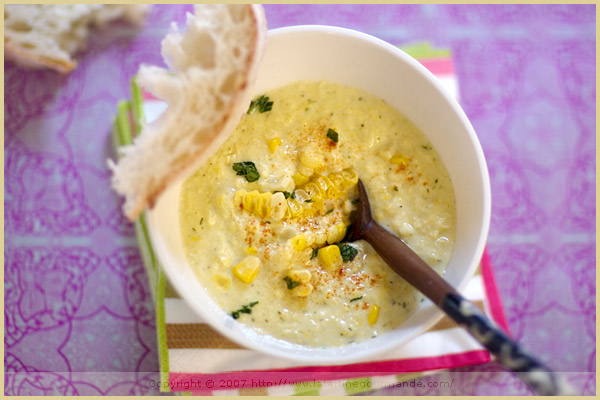 Corn Soup, Fresh Herbs and Paprika
"Qu'est-ce que tu fais ?" (What are you up to?)
"Je prépare une soupe au maïs," (I am preparing a corn soup) I told my mum when she and I chatted on the phone a few days ago. She stayed silent. And then I remembered that she does not like corn that much. So she says. I paused and replied:
"Et, tu trouves facilement des épis de maïs ?" (Do you find corn ears easily?)
"Oh non, il faut aller en ville pour en trouver."
Corn ears are not common in France and will be difficult to find in small village stores, even if we have plenty of corn fields. To be able to purchase corn ears, my mum needs to drive to the nearest much bigger town. In fact, I had never eaten corn on the cob before moving to the United States. Until then, the only corn I knew was corn in a can. The fake corn!
"Mais les épis de maïs, c'est comme les betteraves, c'est pour les bêtes. Nous, on n'en mange pas !" (Corn ears are like beets, they are for animals and not for humans), Monsieur M., the biggest farmer of the village, used to tell me when I asked what he did with the loads of corn he cultivated. I used to play in his corn fields with Manuel, his son.
But little did he know. And little did I know too. Corn on the cob, the real corn, is delicious, and I simply wished that I had known this all along. This summer especially, P. and I have eaten a lot of it. I even think that one week, we must have had corn on the cob three nights in a row. This is how badly we were craving it. We would greedily bite into the cob to taste each kernel burst and release its delicious sweet juice. I like to savor mine slowly too, eating one row after the other, making sure that I will not move to the next row before I have managed to suck every bit of sugary water. Every time I buy corn ears I feel excited, as if I was going to experience eating corn on the cob for the first time again. It is probably not special for most of you who grew up with it, but for me the Frenchie who only knew corn in a can for so many years, it stays something really special.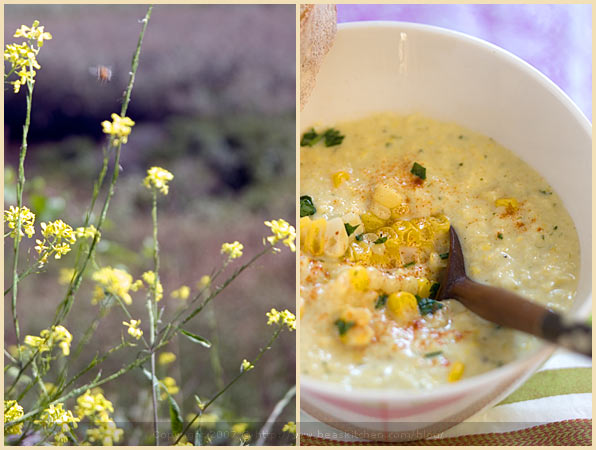 So here we are. The month of September has just arrived. It is really one of the best months in New England. The best month of summer because in fact, it means that we are leaving summer behind. At least, my brain will now be able to function properly. It will no longer feel hazy from too much heat. Oh yes, I have actually been longing for that very moment. I actually prefer September to July or August in the same way I prefer fall to summer. At this time of year, I get up every morning all excited at the prospect of discovering bright, fresh and clear sunny days with blue skies, feeling happy to be able to wear real clothes again, trousers, long-sleeve shirts or a light sweater. As a kid, I always loved September anyway. The smell of "la rentrée" when children went back to school was all exciting to me. I was one of those weird kids feeling excited to walk to school again, even if I would miss les grandes vacances (summer vacation). September was also the month when my mum and dad would also go back to school, to teach. And, it was the time of year when my mum started to cook scrumptious homemade hearty vegetable soups again, to save time, and to feed us well, as she always did.
This being said, I thought about fresh corn because it is still the season around here, and then I remembered lovely Tami from Running with Tweezers. For the second year, she is organizing a Super Soup Challenge, a fun event she is hosting in the memory of her mum. Since I regretfully failed to participate last year — mind you, not from a lack of loving to eat and prepare soups — I thought that I wouldn't this year. Surprisingly, I found inspiration to make the following corn soup from the latest copy of the French magazine Elle à Table — who would have thought that real corn, a.k.a. corn on the cob in my world, is even mentioned in French food magazines — but then I ended up modifying the recipe ingredients and quantities to share my recipe with you. I used plenty of fresh herbs like chervil and parsley to boost the soup in freshness, and ground paprika to give it a smoky, peppery taste, a great balance I thought, next to the sweetness of the corn.
And do you know what? It was extremely simple to make, and tasted delicious. I only wished that my mum could believe me, and I could offer her a bowl of this soup. She might change her mind and even start to like corn. And, perhaps she would suddenly feel the urge to drive to town to buy fresh corn ears too.
Who knows what corn on the cob can do?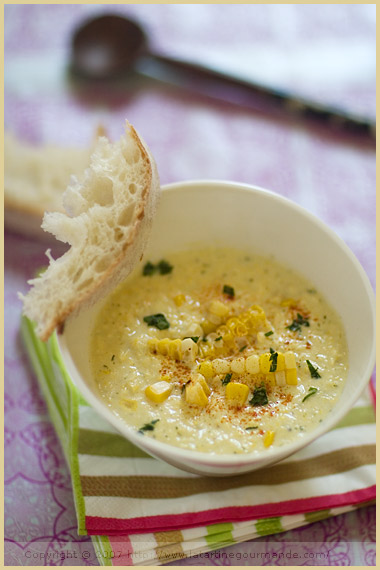 Corn Soup, Fresh Herbs and Paprika
Corn Soup with Fresh Herbs and Paprika
(For 4 appetizer servings)
You need:
4 corn ears*
1 + 1/4 cups whole milk
2/3 cup heavy cream
Salt and pepper
Touch of paprika
Mix of chervil and parsley
Steps:
Cook the corn ears (without the husks) in salted water for 15 min. Rinse them and cut the kernels off with a sharp knife.
Place the milk and cream in a pot with the corn kernels (keep a few on the side). Add the herbs, salt and pepper and a touch of paprika, and bring to a gentle simmer. Cook for 15 min.
Stop the heat and mix the soup in a blender.
Serve with fresh herbs, the reserved corn, and fresh paprika. Do not forget a hearty piece of country bread too.

*I used bicolor corn ears for this soup. Note that the soup texture is rather thick. If you like it thinner, add more milk or cream.
Le coin français
Soupe au maïs, herbes fraîches et paprika
(Pour 4 portions en entrée)
Ingrédients :
4 épis de maïs*
300 ml de lait entier
150 ml de crème liquide
Sel et poivre
Paprika moulu
Mélange de persil et de cerfeuil, hachés
Étapes :
Faites cuire les épis de maïs nettoyés de leur foin dans de l'eau bouillante salée, pendant 15 min. Rinsez les épis sous de l'eau froide. Avec un couteau aiguisé, coupez les grains de maïs.
Mettez le lait et la crème dans une grande casserole avec les grains de maïs (gardez-en quelques uns de côté). Ajoutez les herbes et une pincée de paprika. Faites cuire sur feu doux pendant 15 min.
Retirez du feu et mixez la soupe finement dans un robot.
Servez la soupe avec des herbes fraîches, les grains de maïs gardés de côté et un peu de paprika. N'oubliez pas non plus une belle tranche de pain de campagne.
*J'ai utilisé des épis de maïs bicolores pour cette soupe. La texture de la soupe est épaisse. Si vous préférez une soupe plus fluide, ajoutez plus de lait ou de crème.
Technorati Tags: Food Styling, La Tartine Gourmande, Food Photography, Corn Soup, Paprika, Chervil