Caramelized Onion and Fresh Anchovy Tart
"I feel tired, crevée (wrecked)", I thought as I looked at our orange cuckoo clock in the dining room. The small plastic canary caged inside seemed to be staring at me. Why was he not moving? Stuck in time? It was Friday late afternoon and my body could still feel the cold day we had had. A clear, brisk and sunny day as I like them in winter. I had been courageous enough to walk to the swimming pool. I always need more mental strength to go for a swim when it is so cold outside, although I know that I will love the feeling left with me afterwards. Maybe this could have also explained why I was feeling tired. On Friday nights though, we enjoy starting the weekend slowly. Without any sense of rush, often not going out as we know that some restaurants can be noisy, but cozily staying in, going to bed later than usual and eating tasty nibble food. Since both P. and I were feeling unusually tired, the idea of staying in was pretty attractive. Qu'est-ce qu'on mange ?(what are we eating?) P. asked when he stepped in by almost seven O' clock. "Ca sent bon" (it smells good), he added. "Une pissaladière, enfin presque", I answered. I was making an interpreted version of a pissaladière.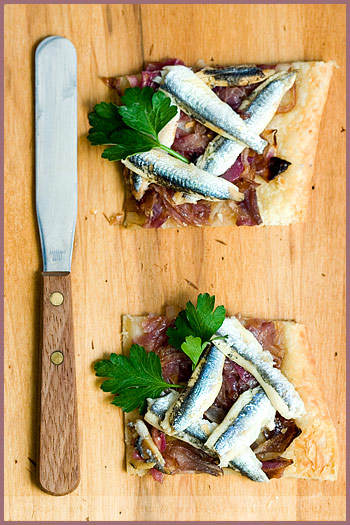 A pissaladière is a French specialty from Nice which consists of onions, anchovies and black olives cooked on a bread dough. In fact, the word pissaladière comes from Pissalat — a provençal condiment made of puréed anchovies mixed with thyme, laurel, pepper, cloves and olive oil — spread on the tart dough before topping with the garnish. I like to make pissaladière often as I find them easy and delicious to have for a picnic or to bring at a party. Friday night though, I decided to make one with only what I had handy, that is little. Since I did not have pâte à pain, I used instead a batch of puff pastry made a few days before. I revisited the idea also using fresh anchovies bought earlier in the week, skipped the black olives and added seasoned rocket on top — and you must know by now that I am a fan of this addition on tarts. In the end, my pissaladière was deconstructed into a caramelized onion, rocket and anchovy tart.
Many people dislike anchovies. Most people have also only tasted canned anchovies before, which can hardly compare to fresh anchovies brined or marinated in oil. While traveling to Spain, I remember us eating them on almost a daily basis. They were cheap too. Whenever I am lucky to find them fresh at my local store, I always stock up on them because not only do I like to cook with them, but I can easily snack on them. Give me this good fish oil!
We decided to watch Baran, one of the long overdue Netflix movies that had arrived a few weeks back. It seemed the perfect match, providing quietness, perfectly fitted to the tranquil mood we were both in. I always find Iranian movies special, and this one was no exception. And we loved the pissaladière, whether authentic or not. When it came to eating and sharing the last piece, P. looked at me and asked: "Ben, y'en a plus après cela ?" (No more after this one?) "Non, désolée, prends-la ! (No, sorry. Take the last piece), I replied. "I will make some more tomorrow."
I am good or what?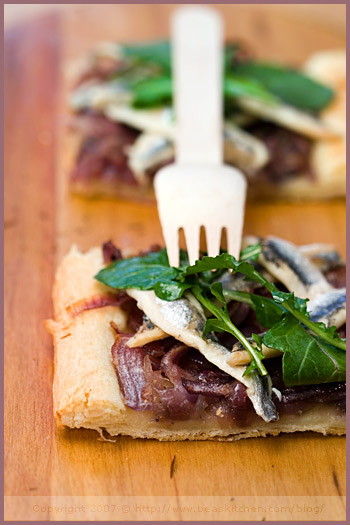 Caramelized Onion and Fresh Anchovy Tart
(For a 8 x 12 " tart)
You need:
9 oz puff pastry
3 red onions
4 Tbsp olive Oil
2 tsp cane sugar
1 Tbsp balsamic vinegar
3 twigs of thyme
5 1/4 oz fresh anchovies, in brine or light oil
Bunch of fresh rocket seasoned with a vinaigrette (1.5 Tbsp balsamic vinegar and 3 Tbsp olive oil)
Salt and pepper
Steps:
Slice your onions thinly.
Heat 4 Tbsp olive oil in a pan and add the onions with 2 tsp sugar and a few twigs of thyme. Season with salt and pepper and cook on low heat for 20 mns, uncovered.
Add 1 Tbsp balsamic vinegar and continue to cook for 15 mns.
Roll your puff pastry in a rectangular and prick it all over with a fork.
Preheat your oven at 420 F.
Place the onions on top of the tart, leaving one inch edge around. Cook for about 20 to 25 mns, until puffed and golden. Remove.
Place the fresh anchovies on top.
Top with rocket seasoned in vinaigrette.
Cut in squares and serve.
Le coin français
Tarte aux oignons caramélisés et anchois frais
(Pour une tarte mesurant 20 x 30 cm)
Ingrédients :
250 g de pâte feuilletée
3 gros oignons rouges
4 càs d'huile d'olive
2 càc de sucre de canne
1 càs de vinaigre de balsamique
3 brins de thym
150 g d'anchois frais, dans une saumure ou huile légère
Roquette assaisonnée de vinaigrette (1,5 càs de vinaigre de balsamique et 3 càs d'huile d'olive)
Sel et poivre
Étapes :
Émincez finement vos oignons.
Faites chauffer 4 càs d'huile d'olive dans une sauteuse et ajoutez les oignons avec le sucre, le thym et du sel et du poivre. Faites cuire sur feu doux pendant environ 20 mns, à découvert.
Ajoutez 1 càs de vinaigre de balsamique et poursuivez la cuisson pendant 15 mns.
Étalez votre pâte en un rectangle et piquez-la avec une fourchette.
Péchauffez votre four à 220 C.
Placez les oignons sur la tarte en laissant un bord de 2,5 cm. Cuisez pendant environ 20 à 25 mns, jusqu'à ce que la pâte soit gonflée et dorée. Sortez du four.
Placez les anchois frais en croisillons.
Garnissez de roquette assaisonnée de vinaigrette.
Coupez en carrés et servez.