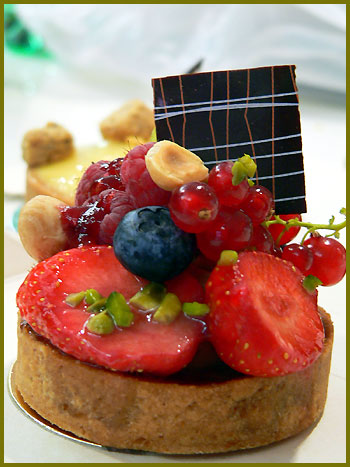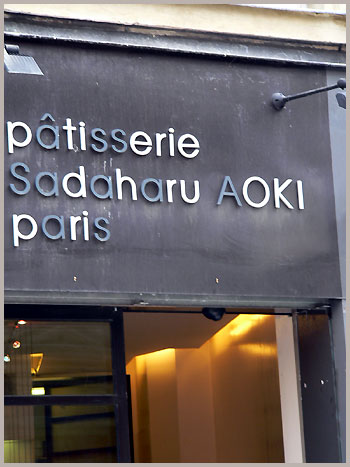 Paris and the Best Japanese Pastries or the Beautiful Art of Sadaharu Aoki
May 31st, Tuesday night in Paris.
Why did I feel so high and hyper that night? I think I ate too much sugar. From noon until later in the night after dinner, sweets and more sweets. The culprit is called Japanese Pastries and more Macarons. I can tell you what happened.
It might sound very cliché, but I think I have found a little treasure spot in Paris. On Tuesday, as P. and I were enjoying our few days in Paris, I was very lucky to be able to meet a Parisian woman who took me on a short tour of some fascinating places where to savour delicate sweet pastries. She made me discover a side of Paris I did not yet know. Is there a better way to discover the Parisian Food World than explore it with a food lover living in Paris? I don't think so!
What on Earth Do Two Food Bloggers Do While in Paris?
So here we are, at 12:00 on Tuesday May 31st, I was due to meet Anne from Station Gourmande at Lafayette Gourmet near the Opéra. How fun! I had been at Gourmet Lafayette before of course, but had never come close to the first stop that Anne introduced me to, called Sadaharu Aoki. My first word at the sight of his stand was "Wouah, c'est beau!". There were so many pastries to choose from that I felt a little disoriented at first. Sadaharu Aoki has a stand at Lafayette Gourmet like many other pastry chefs, but I have to say that his stood out on its own. Not too big, not too small, just elegant like the Japanese know well how to; it was a pure feast for the eyes. Beautiful shapes and design, colours jumping in your face, flavours that are out of the ordinary. Right away I knew I would be faced with a problem known in Béa's land: what will I choose? I wanted to try so many things. This one, what about that one, oh no wait, what is this one? Easy for Anne who knew them all as she pointed out that she regularly tasted his new creations. But what about me who does not know any? In any case, we had to choose. After much talk about it, following Anne's recommendations, we settled for a classic revisited Opéra cake with Matcha Tea, a Yuzu Tartlet and a Pistachio Fruit Tartlet (with a tiny pistachio macaron attached). Yes I know, we were only 2 people but we bought 3 cakes. Think what you have a right to think about this. We were greedy! But for a good reason.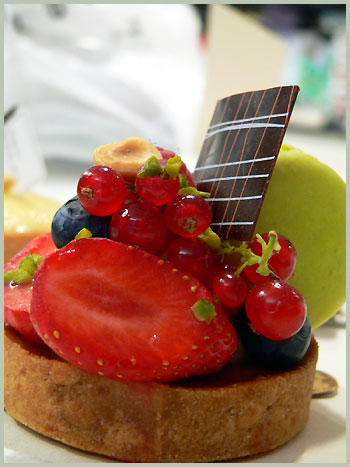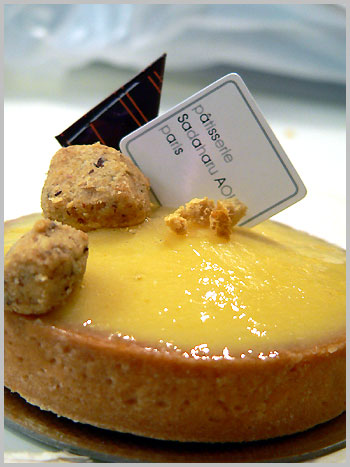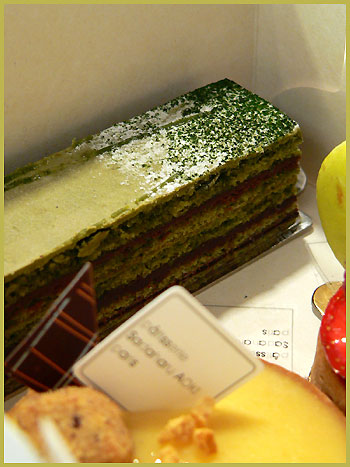 I loved the lemony taste of the Japanese Yuzu (Japanese lemon*), and the Matcha tea with a chocolate filling of the Opéra. As a matter of fact, as we stood inside eating our cakes, our animated conversation was often punctuated with sounds-of-mouth-full like "Mmmm, c'est bon!, mmmmmmm". The Pistachio tartlet however triggered a discovery in me. I had a few bites of it and told Anne that this last one was my least favorite of the three because of the strong pistachio flavour. She replied: Mais Béa, tu aimes la pâte à pistache ? (Do you like pistachio paste?) Do you know what? I guess I just realized that I was not a big fan of it, although I love pistachios. As mentioned by Anne, Sadaharu Aoki's pistachio paste was of great quality. Incredible to me that I just discovered there that I was not a big pistachio paste fan. The full opposite of a flavor like yuzu which is lemony, tangy, always a flavour I would choose over others as I love citruses of all kinds.
*The yuzu [YOO-zoo] is a Japanese citrus fruit (Citrus junos (Rutaceae)) of about the size of a tangerine. It is quite sour. Most commonly, the rind is used to flavor various dishes such as vegetables, fish or noodles. The Yuzu is difficult to find in the U.S. You can obtain bottled juice or dry, powdered yuzu. Occasionally you may find fresh fruit but it is quite rare in the U.S. (Source GourmetSleuth.com)
I wish I could have had more of the desserts, of course. But no matter how greedy I felt, I had to pause. But our bodies are fantastic machines and this is why.
The afternoon continued and I will share more of it with you in future posts. What did Anne and I do? We talked about food and our lives (as this was our first meeting), we tasted great food and strolled from spots to spots in Paris despite the rain. I was about to leave when Anne mentioned that Sadaharu Aoki had also 2 other stores, including one on rue Vaugirard, very close to where P. and I were staying. How convenient I thought, so close to my Métro stop! I had bags to carry and was tired when I left Anne. But the sugar call was still there in me. And I was already thinking about dessert with dinner, and really wanted to share this pastry experience with P. and our friends. Tired or not, I decided to swiftly walk my way to find his store on rue Vaugirard. Almost standing on its own and away from bigger more fancy boutiques, I discovered a tiny shop with a lovely Japanese shop assistant inside, all smiling at me, who on top did not mind my picture taking at all.
—"Je peux prendre des photos ? C'est si beau!
—Oui oui! Hi hi hi."
—"Can I take pictures? This is so pretty!
—Yes, yes! Hi hi hi."
Smiles.
Such a lovely experience!
I was alone in the store around 5pm. A man double-parked illegally across the road. Common in Paris. No worries. What could stop a man with a purpose? He ran in the store to do the same thing that I was about to do: select beautiful desserts for dinner. The choice was difficult once more, but since I had had already a taste of some flavours, my job became easier. I settled for a Black Sesame éclair as suggested by Anne, another Opéra cake with Matcha Tea, a White Chocolate Mousse with a Passion Fruit filling and a giant Pistachio Macaron with Fresh Strawberries (because it was too pretty).
Gloved hands carefully placing my cakes in a box.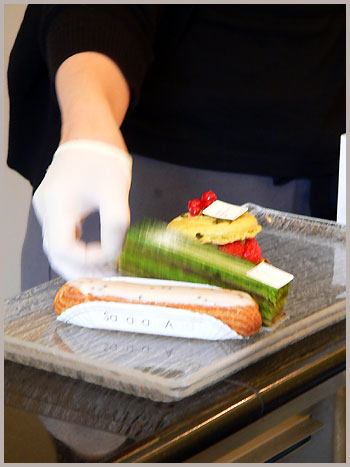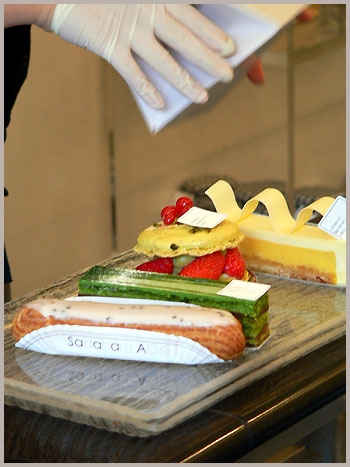 Who could really resist so many gorgeous creations?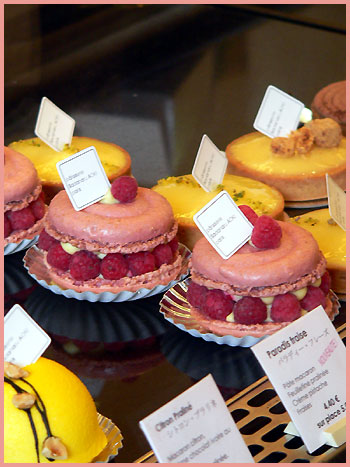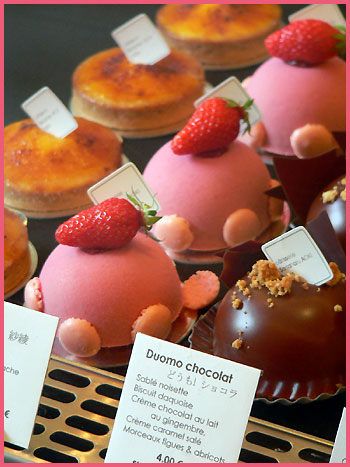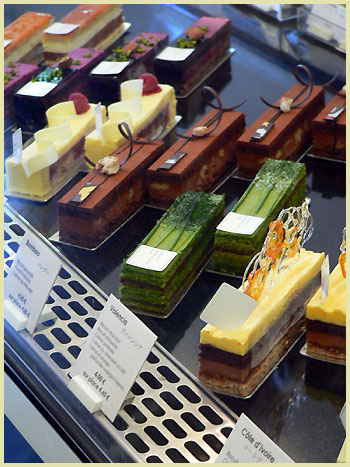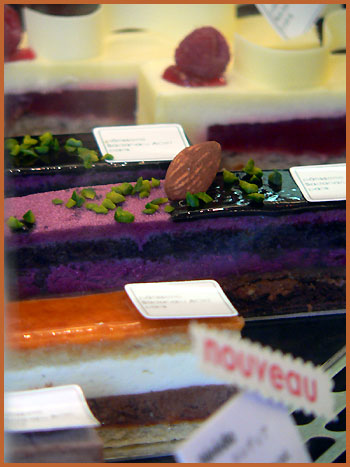 And I settled for: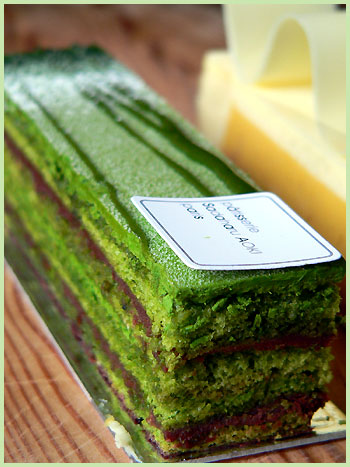 A Matcha Tea Opéra with Chocolate Filling. I personally could not resist the design on top of the cake which reminded me of a forest. Zen and clean.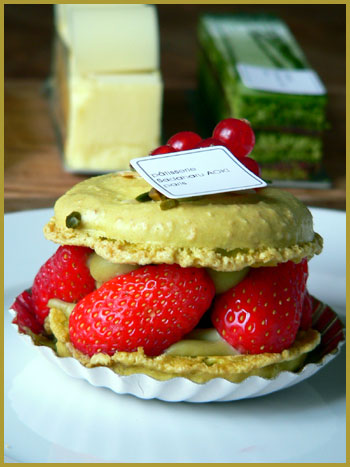 A Giant Pistachio Macaron with Fresh Strawberries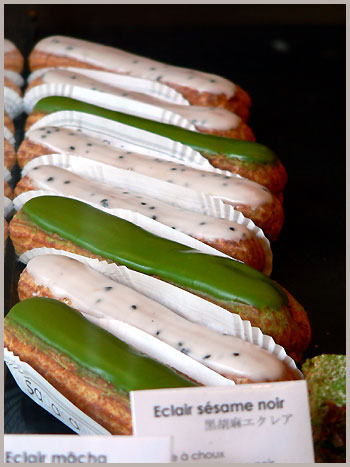 A Black Sesame éclair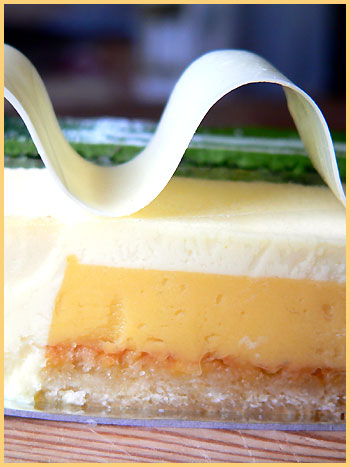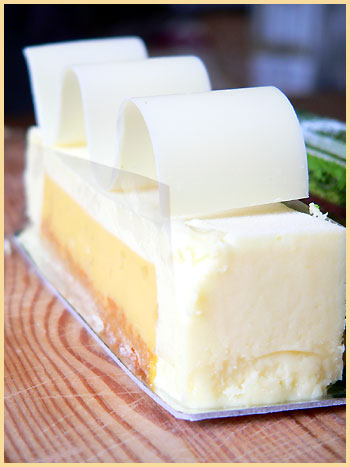 A White Chocolate Mousse (Ivoire) with a Passion Fruit Filling
Can you see this customer there while I was buying my treasures? She is a Japanese customer in a Japanese Pastry Store in Paris checking on where to find good teas in Paris.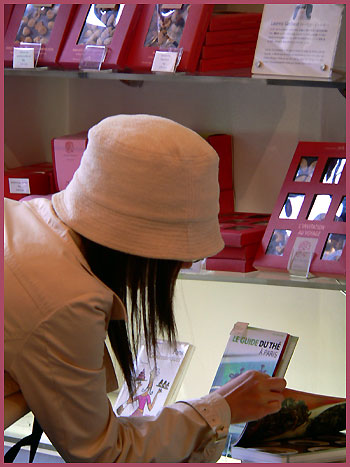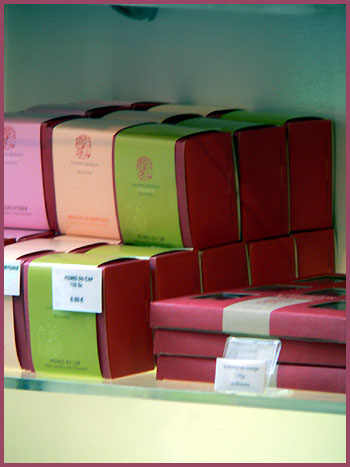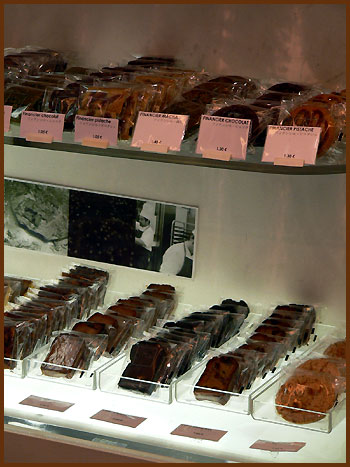 Before leaving the store, I caught a glimpse of a display of interesting chocolate bars with Matcha tea and Black Sesame. Expensive at a cost of 10.50 euros for 100 g for sure, but I don't come to Paris every day!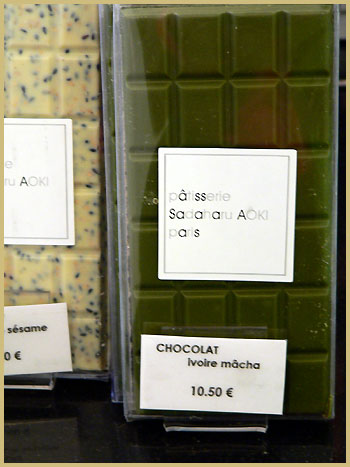 No need to say that we all loved the cakes taken at our friend Ara's place after dinner. For sure, I will return to visit Sadaharu Aoki's stores next time I come to Paris. Every time, my list of places to visit becomes longer.
Thank you Anne!
Sadaharu Aoki

35, rue de Vaugirard 75006
Tel : 01-45-44-48-90
fax : 01-45-44-48-29
11: 00 am to 7: 00 pm

56, boulevard Port Royal 75005
Tel : 01-45-35-36-80
fax : 01-45-35-34-13
8: 00 am to 7: 30 pm
-closed on Sundays

Galerie Lafayette GOURMET
40, boulevard Haussemann 75009