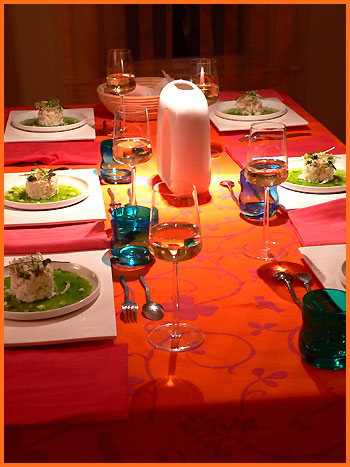 No, Thomas Keller was not a guest or the chef cooking at our house if this is what you are thinking.
But it will be no surprise if I tell you that I love to host dinners, cook and try new recipes all the time. In case you had not yet noticed! What about I show you what it is like (you are curious, aren't you?) when I prepare a special diner with friends.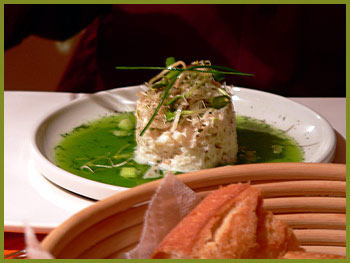 A week ago, P. gave me a new beautiful cookbook by Thomas Keller: its French Laundry
cookbook. I have never had a meal at French Laundry but when you read so much food-related material, it is impossible not to know or feel as if you had already eaten there. Now if there is one cookbook that impresses me, it has to be that one. I had only started to read a few pages and I could already feel the obvious love for food expressed by the chef, Thomas Keller. This book is simply a true celebration of beautiful food, featuring dishes that are not rushed, those that require time and ask for a strong respect for processes and quality ingredients. A pure beauty. A week prior to receiving my birthday gift, I had arranged a diner with friends. Thought occurring in my head "thinking thinking!" I decided I would select dishes for my menu from my new cookbook. No matter what.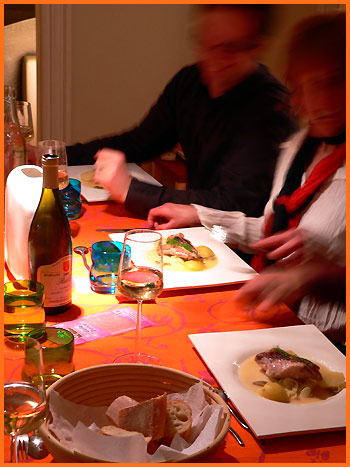 Lucky that we were, amongst our lovely friends was R. who belongs to the Confrérie des Chevaliers du Tastevin. And do you know what this means when it happens? The wine is going to be excellent, and from Bourgogne. It did not fail. We drank a Rully "La Perche", Bourgogne 2004 from the Domaine de Belleville, which was a truly lovely white wine.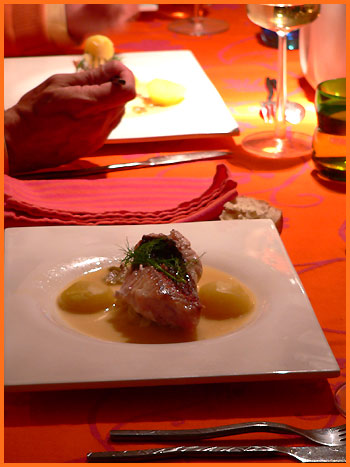 The challenge in dinner events like this one is for me to remember to take my camera out and pay attention to the pictures I take. Since I was cooking (and drinking wine), I had zillions of things to think about and only took a few shots when I remembered.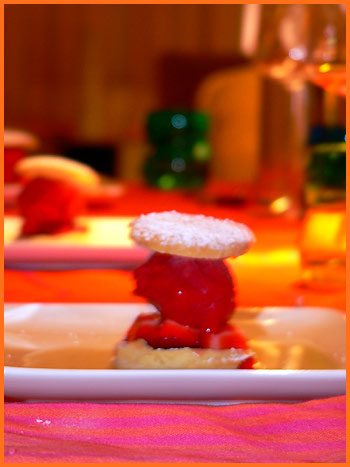 Hence, you will notice that the pictures are not the best shots you can hope for, and that they will not win a prize (as P. would put it!) But they are real of what the evening was like. I hope you enjoy the ride! Thank you Mr Keller for the delicious food you designed. I surely did not equal your talent while making your recipes, but I loved the whole process and learned a ton! And they tasted fabulous.
So here is what our menu was like:
Appetizer:
Cucumber Jelly with Dill, topped with Crab in Mustard Chantilly and Mixed greens with Daikon in Olive Oil, recipe from French Laundry
cookbook.
Gelée de concombre et d'aneth, crabe à la chantilly aromatisée à la moutarde en grains et salade variée avec daïkon arrosé d'huile d'olive, recette tirée du livre from French Laundry
.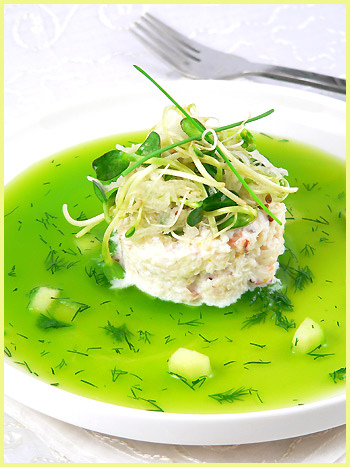 Main course:
Red Snapper in Vanilla Green Olive Sauce with Marinated Fennel Salad and Steamed Fingerling Potatoes, recipe adapted from Starters
cookbook (I will talk more about that other loved cookbook in another post).
Vivaneau et sauce à la vanille et aux olives vertes sur lit de salade de fenouil mariné, avec pommes de terre à la vapeur, recette adaptée du livre Starters
.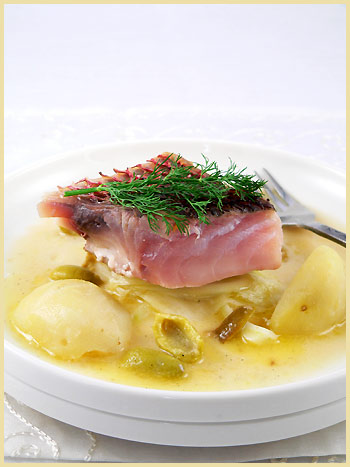 Dessert:
Shortbread with Fresh Strawberries and Raspberry Sorbet with Cream Vanilla Sauce, recipe from French Laundry
cookbook.
Sablé et fraises marinées, sorbet à la framboise et sauce crème fraîche vanillée, recette tirée du livre French Laundry
.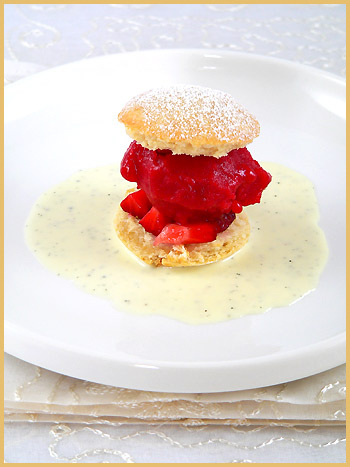 How comes it can take so long to prepare a meal and it disappears in no time?