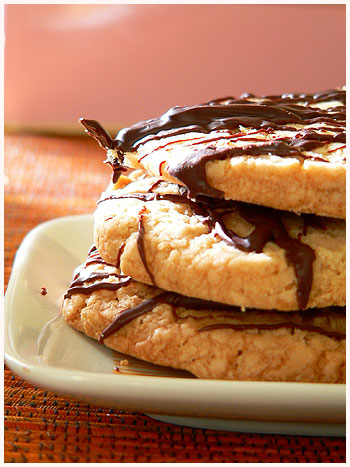 The Kayak Cookie
I promise that I am not getting dividends from the New Zealand tourist industry.
So, if it happens that you are getting tired of my New Zealand stories, you can probably skip this post. Ah no wait! There is a recipe as well, so maybe you want to wait?
Do you remember following me to Abel Tasman National Park where we went kayaking and hiking for 3 days? I have not yet talked about the kayaking part of this wonderful time. Needless to say that it was pure joy in a place like this. Turquoise water, great beaches and wildlife. Some people call that le paradis. But life remains life and even in an idyllic place like the one we visited, it is just not possible to feel happy at every moment (those same people give you the impression that it is possible to smile all day long, but I just think it is a lie! aha!) Kayaking can be stressful and…
Kayaking can start like this: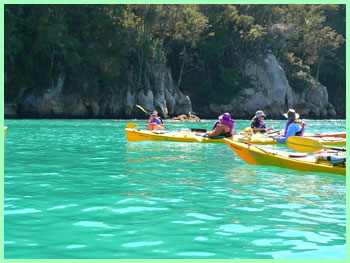 It is called Disorientation.
Setting:
Kayakers all going in the same direction or in opposite directions, depending on the time, eventually all merging towards one another and boum! Colliding. Called a mess!
Maybe this would not happen at all if you the kayaker were alone in your kayak. But Mother Nature teaches us to think it could always be someone's else fault. Because we were two people in each kayak – and what better choice is there to make than to sit proudly with your husband or boyfriend, wife or girlfriend in a binôme kayak– things did unfold differently. We, the actors, called them binôme kayaks and imagined the experience would be charming, you know, similar to you sharing something with him or her. Very soon, our guides told us that the many years spent observing the typical kayakers' interactions inspired them to rename those beautiful pieces of water equipment. They called them divorce kayaks.
Typical scenario:
A droite!
Mais non, je t'ai dit de tourner!
Mais t'es sourd ?
Tu m'entends là ?
Ah mais non, pas si vite, ralentie on va leur rentrer dedans!
And for your convenience in English you get:
To your right!
No, I told you to turn!
Are you deaf?
Do you hear me?
No, not so fast we are going to hit them!
Kayaking on our trip also meant spending four hours crunched in one position before lunch, two or three after lunch (this increases the grumpiness and hunger factor). Consequently, when we finally put our feet on land to eat our lunch, we looked like good fellows after a few pints of beer. Called stiffness!
All things considered…
Kayaking with your partner is fun!
But we were glad to have lunch!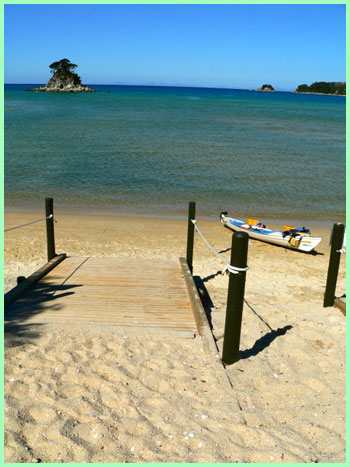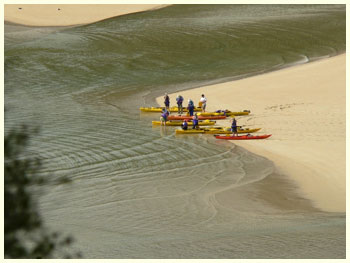 Lunch under such circumstances was a major highlight. We loved kayaking but needless to add that we were all impatiently waiting for lunch to arrive. Pas fous! On our kayaks, we carried our paper-wrapped lunch bag that we would open as if it were a Kinder Surprise (everyone knows Kinder, right? you wait for the surprise!) One day, we found an enormous cookie in the bag. Oh, it was so big, so round, so chocolaty. I can still remember it. It was big but why not have two instead of one? Perhaps someone would trade one against something else? Don't ask me how it happened, but I managed to trade to get a second one against…well against nothing. I like good friends! It inspired me and once more, I had decided that upon our return, I was going to make cookies, just like this one.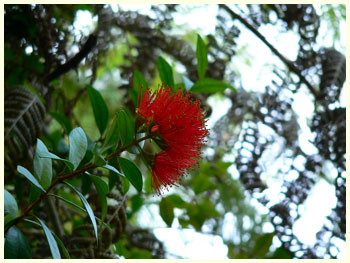 Pohutekawa flower, New Zealand, Feb 2006.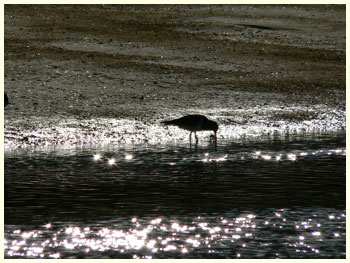 Oyster Catcher, New Zealand, Feb 2006.
Back home, I took Trish Deseine's Je veux du chocolat and found a recipe that was close enough to match my memory of the cookie (mind you, I marked many recipes I wanted to try).
Here it is!
Oatmeal and Dark Chocolate Cookies
You need:
70 g rolled oats
210 g butter (the recipe calls for salted, I used unsalted)
100 g confectioner sugar
220 g all-purpose flour
1 tsp baking powder
50 g milk chocolate (I only used dark)
50 g dark chocolate
Steps:
Preheat your oven at 300 F (150 C).
Mix together the sugar and butter until you obtain a cream-like consistency.
Add the flour, the baking powder and the oats. Your dough should be firm.
Shape the dough into a 10 cm (3 inches) roll and wrap it in plastic wrap.
Place in the fridge for 30 mns, minimum.
Take it out and make slices (0.5 cm or 0.2 inch).
Place on a baking sheet (with greased parchment or silicone sheet) for 15 to 20 mns, or until the top of the cookies has a nice golden color.
Take out and let cool down.
When they are cold, decorate with melted dark and milk chocolate. I only used dark.
And then what do you do? You try to be patient and not rush to eat them all. They are tasty!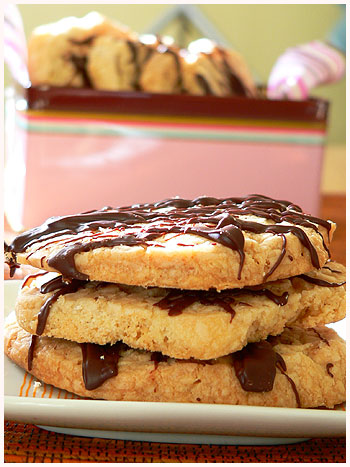 Recipe from Je veux du chocolat (Trish Deseine)